Current Video Game Statistics for the Current-Gen Gamer

Terraria

Save
Best Terraria mods
Jun 1, 2020 - Rock, Paper, Shotgun
Every other Monday, we give you a reason to dust off one of your old games and dive into its mods with Modder Superior. This time, Craig has collected some great mods for Terraria, now it has an officially integrated modloader. Terraria's final update, Journey's End, is just the beginning. Developers Re-Logic have pulled off one final trick for their huge fanbase, making popular community mod manager tModloader officially supported. It's a lovely gesture that means the players will have easy access to the bewildering amount of fan-made items, monsters, total conversions, and more, even if development has ceased. I had to editorialise a lot when looking around for mods for Terraria: there's a bewildering amount. I didn't want to overwhelm things with content mods, because there's an issue of balance with some of the larger mods. As much as I love OTT boss battles, I generally prefer Terraria's mods to feel like part of the original game. The rest are QoL addons, because there's nothing better than wrangling the vasy, unwieldy systems of Terraria into something just a tad more manageable. That's what we'll be working with, so let's get to it. (more…)
Terraria Becomes Steam's 4th Most Played Game Ever with Half a Million Players at Its Peak
May 17, 2020 - GitHyp
This weekend, the developers behind the wildly successful action-adventure sandbox game, Terraria, released the game's last major update entitled, "Journey's End." And after nine years of updates from the team at Re-Logic and sales on Steam, the game's "complete" edition has made Terraria more popular than ever. Typically averaging around 40-50k concurrent players on Steam, Journey's End on its first day saw a peak of 485k concurrent players. That 10x increase in the game's player count was enough to push it past Fallout 4 into the #4 spot on Steam's list of all-time most played games.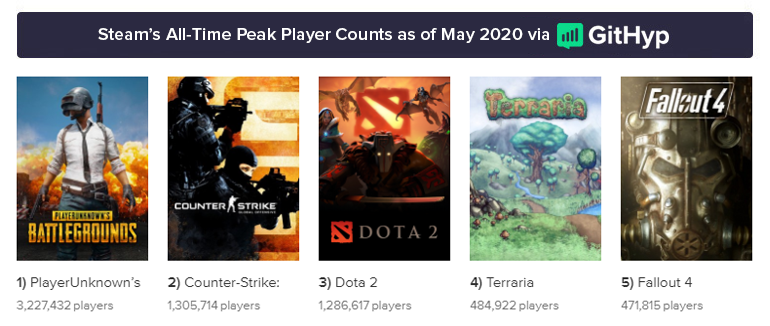 9 years after launch, Terraria is finally complete
May 16, 2020 - Eurogamer
Terraria has been declared complete after its developers released the game's final major update. The Journey's End update arrives today nine years after the hugely popular sandbox game came out on PC, and makes significant changes to most of Terraria's systems. "This update has been a labor of love, tirelessly worked on by our team over a good while, and we truly feel that it brings Terraria to the next level, to a place where the core game can finally be called 'complete'," developer Re-Logic said in a forum post. Read more
The End of the Journey - The Beginning for Terraria: Journey's End Out Now!
May 16, 2020 - Community Announcements
https://i.imgur.com/1EVivFo.png Happy Launch Day, Terrarians... and welcome to Journey's End! This update has been a labor of love, tirelessly worked on by our team over a good while, and we truly feel that it brings Terraria to the next level, to a place where the core game can finally be called "complete". From new ways to play the game to over 1000 new items to find and craft to new bosses to challenge and even a full-pass review of all content of the game for balance, graphic quality, and mechanics - truly, Journey's End has something for everyone. We cannot wait to see your reactions as you dive in to all that this update has to offer, and we hope that you thoroughly enjoy our gift to you. It has been an amazing journey indeed... but we truly feel that this end is really just a new beginning for the amazing world of Terraria. So, what awaits you in Journey's End? In case you missed our advance Terraria: Journey's End Changelog post last Thursday, we have linked it below for your reading pleasure. Also located in today's post are where and how to report bugs as well as other important information that you may find interesting. As a reminder, Mac/Linux optimizations, additional Localization, and the Vanity Contest winners will be added in a post-launch update. https://i.imgur.com/yguIrXw.png THERE & BACK AGAIN: A SUMMARY OF TERRARIA: JOURNEY'S END (OFFICIAL CHANGELOG) The Journey's End changelog is simply too massive to post here (seriously, just the text alone is over 45 pages long!), so we have created an organized and easily-navigated version over on our Forums. Click the link above to head there and check it out! https://i.imgur.com/yguIrXw.png TERRARIA: JOURNEY'S END FAQ/GUIDE CENTRAL We have also put together an ever-evolving FAQ/Guide that should cover many of your burning questions. Again, click the link above to check it out! https://i.imgur.com/yguIrXw.png TERRARIA: JOURNEY'S END BUG/ISSUE REPORTING Having an issue? Found a nasty bug that you want us to squash? We are here for you! While the team will be searching far and wide all over the Community, the best place to report bugs is over on TCF! https://i.imgur.com/gqPleqg.png Click the Bug Report Banner above to head on over to share any issues you are having! https://i.imgur.com/yguIrXw.png TERRARIA: JOURNEY'S END COVER ART WALLPAPERS - A SPECIAL GIFT FROM RE-LOGIC TO YOU! The Re-Logic Team is thrilled to be able to share our amazing Journey's End cover art - courtesy of our very own Jimmarn! Our team feels like this epic panorama really captures how we - and you, our community - feel with this release finally being out in the wild. A time to reflect on all that has been accomplished as much as a time to prepare for what is next! Jim has created three versions of this art for everyone to enjoy (Day - Night - Sunset). Each of these are now available for download on the Media page of Terraria.org, via the link below. Alternatively, you can click the cover art below to be whisked away...
Terraria's massive final update, Journey's End, is out today
May 16, 2020 - Rock, Paper, Shotgun
Let it not be said that Terraria failed to go out with a bang. Dropping today, Journey's End is an exhaustive final update for Re-Logic's venerable block-building sandbox. But beyond new items, biomes, bosses and golf, Journey's End formalises mod support by releasing a fan-made kit as free DLC, putting Terraria's future in the hands of the folks still playing it ten years on. (more…)
Terraria: Journey's End Changelog
May 14, 2020 - Community Announcements
Journey's End is very near, Terrarians! This update has been a labor of love, tirelessly worked on by our team over a good while, and we truly feel that it brings Terraria to the next level, to a place where the core game can finally be called "complete". From new ways to play the game to over 1000 new items to find and craft to new bosses to challenge and even a full-pass review of all content of the game for balance, graphic quality, and mechanics - truly, Journey's End has something for everyone. In the writing of this changelog, it was even more apparent than ever to our team just how much has been packed into this epic final major content update to Terraria. Truly, a fitting end to an absolutely amazing journey. So, what awaits you in Journey's End? Click the banner below to head over to our forums and read over all of the juicy details... https://i.imgur.com/vA76Djq.png Click The Journey's End Banner to View the Changelog (The changelog is over 40 pages long, even just as plain text - so we are having to host it over there) For those who would prefer an old school full text changelog, we have got you covered as well - this is available for download at the top of the thread linked above. TWO DAYS TO GO!
Terraria: Journey's End Launch Weekend Events
May 13, 2020 - Community Announcements
https://i.imgur.com/vA76Djq.png Greetings from the last stop before the plunge that is Terraria: Journey's End - the launch weekend! We sincerely hope that you have enjoyed our series of Feature Articles over the past 2-3 weeks. We have certainly had a lot of fun introducing you to much (but most definitely not all!) of what Journey's End brings to the game. If you missed any of those, check them out at the bottom of this post. JOURNEY'S END LAUNCH WEEKEND CELEBRATION With that now behind us, we have quite the lineup of fun and interactive community events ahead over the next several days. Let's dive into that schedule so that you can mark your calendars appropriately - this is not something you will want to miss!!!! https://i.imgur.com/yguIrXw.png THURSDAY, MAY 14TH Enjoy an advance copy of the Terraria: Journey's End Summary & Changelog - see what lies down the path to Journey's End! https://i.imgur.com/yguIrXw.png FRIDAY, MAY 15TH Celebrate Journey's End Eve with the Re-Logic Team as we hang out with some Community favorites as they check out what Journey's End has to offer! The Re-Logic folks will be making the rounds to chat, answer questions, and celebrate the launch. Join Redigit, Cenx, and the rest of the crew for a fantastic time as we count down the hours to the "pushing of the button"! https://i.imgur.com/ZOTy93Y.png PEDGUIN'S CHANNEL CHIPPYGAMING'S CHANNEL --- https://i.imgur.com/6xBy1HP.png BADGER'S CHANNEL BOUPHE'S CHANNEL https://i.imgur.com/yguIrXw.png SATURDAY, MAY 16 Be there for the run up to the "pushing of the button" to release Terraria: Journey's End! The entire Re-Logic Team will gather together in Kargoh's Channel for the final hour run-up to the launch. Come and join the madness - Don't miss this! https://i.imgur.com/zV8wb1K.png KARGOH'S CHANNEL https://i.imgur.com/DFlQWEZ.png PYTHONGB'S CHANNEL https://i.imgur.com/yguIrXw.png JOURNEY'S END FEATURE ARTICLES FORE-RRARIA: HITTING THE LINKS WITH TERRARIA GOLF --- MYTHICAL BEASTS & WHERE TO FARM THEM: EXPLORING TERRARIA'S BESTIARY --- WITH GREAT POWER COMES GREAT ACCESSIBILITY: INTRODUCING TERRARIA'S NEW JOURNEY MODE --- WHAT WAS OLD IS MADE NEW AGAIN: REVISITING THE TERRARIA EXPERIENCE --- EXPAND YOUR TERRARIA EMPIRE: PYLONS, TOWN BUILDING, AND NPC HAPPINESS --- FULL STEAM AHEAD: TMODLOADER TO LAUNCH AS FREE DLC FOR TERRARIA WITH JOURNEY'S END
With Great Power Comes Great Accessibility - Introducing Journey Mode
May 6, 2020 - Community Announcements
Greetings, Terrarians! The massive and highly-anticipated Journey's End update for Terraria is nearly here... only 10 days to go! Today's Feature Article is one that we have been looking forward to for quite some time, as we will be giving you a first glimpse into the brand new Journey Mode. The goal of Journey Mode is to provide a more accessible experience by providing the player unprecedented control over the gameplay experience. A way to bring in all players of various skill levels and to be able to customize your experience to optimize the fun you have in game. This is not Creative Mode, this is a whole new way to experience Terraria - and one we feel represents the ultimate evolution of being able to play your Terraria any way that you want. What does all of this mean? How does it all work? Let's dive into just the high level here... but if you want the full details, complete with a lot of fun images, check out the announcement thread over on TCF, linked below: JOURNEY MODE FEATURE ARTICLE ON TERRARIA COMMUNITY FORUMS ---- For starters, the only rule of Journey Mode is that Journey Mode Characters can only play on Journey Mode Worlds and vice versa - no exceptions! ENHANCED STARTER GEAR Every Journey begins with that first step, but of course, every smart traveler packs the right gear before heading out. In Journey Mode, you will begin your adventure with an enhanced starter gear package, which includes: Iron Shortsword Iron Axe Iron Pickaxe Iron Hammer Finch Staff (a bird that is happy to sit on your head when it isn't attacking your foes) 100 Torches 100 Rope Magic Mirror Starter Wings (very limited flight, removes fall damage) Of course, you are free to use as much - or as little - of this gear as you choose. As you will hear us say over and over in regards to Journey Mode - the choices are all yours! Take as much or as little help as you need. You can even make things harder on yourself if you so choose, but more on that later --- WELCOME TO TERRARIA LABORATORIES - THE FUTURE OF R & D R&D? What in the world are we talking about? Welcome to the wide, wide world of Terraria R&D: Research & Duplication. R&D is going to quickly become your best friend - and latest obsession - during your adventures in Journey Mode. How does it all work? Why, it is so easy, the Guide could do it! RESEARCH Once you complete your Research on any item in the game, you will unlock the power to Duplicate it at will. Let's pause a second to let that sink in. Ok, are you back with us? Let's continue along our tour. Researching an item is pretty straight forward - start by opening up your inventory and clicking on Benny the Construction Bunny. This hardhat-wearing friendly critter is your gateway to the immense powers bestowed upon you in Journey Mode. DUPLICATION Clicking the icon for any item appearing in the Duplication Menu will instantly spawn a full stack of that item (materials, blocks, etc.) or a single duplicate of things like Weapons/Armor/Accessories. Any...
tModLoader to Launch as Free DLC for Terraria with Journey's End!
Apr 29, 2020 - Community Announcements
Greetings, Terrarians! We are just shy of three weeks out from the highly-anticipated release of Terraria: Journey's End, and we know that as the anticipation builds, so will the excitement! Well, allow us to add more fuel to that fire with the official announcement that the long-standing "Terraria mod to make and play mods", tModLoader will be coming to Steam on May 16th as a free DLC for Terraria alongside Journey's End! https://i.imgur.com/bsqNjyV.png (Click the Gear to hear do the TML Store Page) TMODLOADER IS OUT NOW! DOWNLOAD YOUR COPY VIA THE STORE PAGE BY CLICKING THE GEAR ICON ABOVE! Though fully-integrated official mod support is not something that is feasible within the Terraria codebase, tModLoader has served faithfully as that "bridge" between the main game and the amazing library of player-created mods that exists for Terraria. With this launch, modding has never been more visible or accessible for Terrarians - so, if you have not ever tried out modded Terraria, there is no time like the present! The launch version of TML for Steam will be based on the 1.3.5 version of the game - as will all of the currently-available mods out there. This will allow for players to continue to enjoy modded Terraria uninterrupted while they can also separately dive into all that Journey's End/1.4 has to offer on the vanilla side of the fence. The TML Team will be working diligently to get a 1.4-tier TML out as quickly as possible on Steam so that, as mods are updated to the 1.4 standard, support for them will already be available. Always remember that playing with mods is at your own risk, etc. Neither Re-Logic nor the TML Team can vouch for the quality and/or functionality of each and every mod. If you are having issues with any specific mod, the best way to sort that out is to get in touch with the team behind that specific mod! Future plans also include the addition of Steam Workshop support underneath the TML banner, allowing mod creators to upload and host their mods on Steam for the first time. This will take the accessibility and visibility of these amazing community creations to yet another level. The Re-Logic team felt strongly that with Journey's End being the final major content update to Terraria, there was no better way to tie things off than to hand the keys over to the fans. With tModLoader and a stable foundation to work from in 1.4, modders are now free to explore any number of ways that the game might be interpreted or experienced. We cannot wait to see where you take this wonderful world that we have created! Check out the Steam Page for tModLoader below - make sure you wishlist this so that you will know the instant it is released! https://i.imgur.com/VlVPL6s.png Learn more about tModLoader and join the conversation on our official reveal thread on Terraria Community Forums! https://forums.terraria.org/index.php?threads/full-steam-ahead-tmodloader-to-launch-as-free-dlc-for-terraria-with-journeys-end.88057/
Terraria: Journey's End Vanity Contest Finalists Voting
Apr 17, 2020 - Community Announcements
First of all, a big thank you to everyone that entered our Journey's End Vanity Contest! We were blown away by both the sheer volume (THOUSANDS :eek: ) and the overwhelming quality of what you all produced. Simply stunning, but not really surprising, because we know how awesomely creative you all are, right? :) Seriously, if you have not checked out the awesomeness that is the Submissions Thread... you really should do so right now! (https://forums.terraria.org/index.php?threads/journeys-end-vanity-contest-submission-thread.86457/) The Re-Logic team has at long last completed the arduous task of going over every entry (yes, we did look at every. single. one.), and we are ready to reveal our choices for the 25 Journey's End Vanity Contest Finalists! Our criteria were focused on how cool we found the concept, how well we felt it could be executed on by our team, and how well we felt it would fit into Terraria. Note that for some concepts, multiple people may have had a similar idea. For these, the idea that best communicated the concept and/or stood out as being the most unique to the team was selected. You will find these detailed entries over at Terraria Community Forums > https://forums.terraria.org/index.php?threads/journeys-end-vanity-contest-finalists-voting-instructions.87511/ TERRARIA: JOURNEY'S END VANITY CONTEST VOTING ​ In order to involve as many of the various arms of the Terraria Community as possible, we will be utilizing a centralized voting method that is not tied to any one aspect of the Community. Voting will all be done via the Google Forms link posted below. Before we get there, a few things to point out. https://forms.gle/dqB3QE3rR47MbMUo8 In order to limit the possibility of "ballot stuffing" (aka voting over and over again), you will be required to sign into a Google account in order to vote. We figure this is as innocuous of a thing to ask as anything, since most folks either have a Google account or could make one easily You will be asked to vote for a first, second, and third place entry - each entry will have an image, name, and the creator's name clearly listed. If you so desire, you may vote for the same entry in all three places. The order in which the finalists will appear is randomized for each voter, to avoid bias. ALL VOTES MUST BE CAST BY MIDNIGHT EST ON APRIL 24, 2020​ That's pretty much it folks - sign into Google, vote, and then see how it all shakes out! Tell your friends and family - don't let your favorite be left out!
Terraria's final update, Journey's End, arrives in May
Apr 13, 2020 - Rock, Paper, Shotgun
We've dug far enough into the depths at last. Terraria's big final update, Journey's End, has been planned for quite a while, bringing a whole slew of new items, bosses, and baddies to the world. It's been a bit longer in coming than originally planned, but Re-Logic have now announced that the 1.4 update is coming on May 16th. (more…)
Terraria: Journey's End Launches on May 16, 2020!
Apr 13, 2020 - Community Announcements
Greetings Terrarians! We mentioned last week over on the Terraria Community Forums that, given the tough situations that we are all facing in the world right now, we are pushing harder than ever to get Journey's End out to you as soon as possible. Well, today we are here to share a little bit more detail behind those plans, and what better way to do that than to share with you our planned launch date... https://i.imgur.com/BCgFjMo.png TERRARIA: JOURNEY'S END WILL LAUNCH ON MAY 16, 2020 - THE NINTH ANNIVERSARY OF THE GAME'S LAUNCH! ​ We hope you enjoy this latest reveal... see you in a month, Terrarians!
Terraria Reaches 30 Million Copies Sold - 50% off Sale in Celebration!
Mar 31, 2020 - Community Announcements
Greetings Terrarians! We wanted to take a moment out of our final push to complete the eagerly-anticipated Journey's End update and celebrate a little something with our loyal and awesome community. Terraria has officially reached the epic milestone of having sold 30 Million copies across all platforms! Some fun details: 14 Million sold on PC 7.6 Million sold on Consoles 8.7 Million sold on Mobile devices What is even more crazy is that the momentum behind our game remains as strong as it has ever been - even in advance of Journey's End arriving soon, which is sure to blow the lid off once again! To say that this floors all of us in regards to the sheer level of support and love you have shown us over the years is a massive understatement. We can only hope to return the favor by continuing to provide amazing gaming experiences for years to come (whether it be on Terraria or future games that we create). In order to celebrate the occasion, we are having a 50% off sale for Terraria this week - that's right, from now until April 3rd @ 10am Pacific, Terraria and the Terraria Official Soundtrack are half-off! So if you haven't tried Terraria yet - or you have a buddy that hasn't - what better time than to dive in head-first to see what all of the fuss is about? From the bottom of our hearts - THANK YOU TERRARIANS! You are what makes this so much fun and what drives us to do great things each and every day.
Terraria: Journey's End Vanity Contest
Mar 13, 2020 - Community Announcements
Greetings Terrarians! The development team at Re-Logic were having a chat the other day about just how creative the Terraria community is - from art to music to in-game creations, you all are simply amazing. That got us to thinking... what better way to reward that creativity in the final Journey's End update than to give all of you creative geniuses a once-in-a-lifetime chance to get your very own vanity armor design into the game itself? That's right - we are giving everyone a chance to submit their own original ideas for Terraria Vanity Armor/Outfits (Head/Torso/Legs), and the winners will see their ideas make it into the game for the Journey's End update! This is your chance to design your own brand new vanity outfit that you'd like to see added to the game! This is sort of like finding that golden ticket and getting to visit the chocolate factory, except there is no tour and no lifetime supply of chocolate... only fame and glory and bragging rights forever listed in one of the best video games ever crafted. As you might imagine, there are some rules and guidelines and such that are important for you to follow - however, inside of these guidelines, have at it! Anything your minds can dream up, we want to hear about it! You can also check out the Contest Submission Thread to see current submissions! GUIDELINES & RULES WHAT IS ALLOWED/NOT ALLOWED? Only one submission per person! If you make multiple submissions, we will select the first submission made, and the latter ones will be disqualified. All Vanity entries must be the original work of the person submitting the idea - no stealing! (yes, we will look -_-) Sprites from Terraria mods *ARE* allowed but only if you are the original creator of that artwork (this means the actual artist, not just anyone that happened to work on a given mod) Direct lifts/overt references to other games/movies/tv shows/etc. are quite likely to be rejected (if we have to ask permission to use it, don't submit it ;) ) Please keep it PG-13 - nothing profane/offensive/etc. please If you are looking for more guidance and next-level design tips, check out this link > Terraria Vanity Contest Best Practices & Design Tips HOW DO I SUBMIT MY ENTRY? Entries should consist of a design that includes Head/Torso/Leg (aligned to those vanity armor slots in the game). We will not be including wings/dyes/weapons/etc. Sorry. All entries must include artwork of some kind. This could mean anything from super-fancy hand drawn art to MS Paint-level scribbles. However, the art - and any accompanying descriptions - need to be able to clearly communicate the idea. If we have to struggle to understand the concept, it will hurt your chances of winning... and trying to guess art from just text is going to give all of us headaches. If you have a name for your creation, please provide it. Entries should be submitted by posting in the Contest Submission Thread! Entries MUST be posted in the submission thread to be considered valid submissions! I...
The 20 best survival games on PC
Feb 21, 2020 - Rock, Paper, Shotgun
Ever since Minecraft got us hooked on surviving its deadly nights and sinister, snickering foes over a decade ago, there have been wave upon wave of new survival games to scratch our deepest masochistic itches. Attempting to tackle them all at once, however, would probably lead to an early grave, so we've put together this list of the very best survival games on PC to help satisfy those cravings for Darwinian supremacy. Whether you love punching trees, surviving against the elements or simply stuffing your belly with as much grub as you can manage, there's a survival game with your name on it. (more…)
Official Terraria Weekly Livestream Events Start Tomorrow!
Jan 9, 2020 - Community Announcements
Re-Logic and our development partners at 505 Games (publishers of Terraria on non-PC platforms) are kicking off what will be a weekly Official Terraria Livestream series starting tomorrow! Come hang out with your fellow Terrarians, Community Leaders, and even the developers themselves! You never know what could happen, so you don't want to miss these! We are planning to conduct Terraria swag giveaways - and we might even have some Terraria-themed contests for epic prizes. 🥳 The first livestream in the series will be tomorrow @ 1PM PST, and will include special guests: Badger, Chippy Gaming, Pedguin, Demize and more! The Stream will be live @ https://www.twitch.tv/TerrariaOfficial - Show up early for Twitch chat fun & Hype!
Here's some of the best moments so far from Awesome Games Done Quick 2020
Jan 8, 2020 - Rock, Paper, Shotgun
Awesome Games Done Quick (aka AGDQ) has started yet again, and just four days in has already blessed us with some unforgettable moments and absolute must-watch PC speedruns. The clips I offer up to you today involve one speedrunner whacking out a real life model to explain a glitch, one speedrun where everything went wrong but everyone had a fabulous time anyway, and one game developer exclaiming "frick cancer in the bum." (more…)
The Halloween Seasonal Event is Here to Haunt Terraria!
Oct 21, 2019 - Community Announcements
Happy Halloween, Terrarians! Have you been noticing anything spooky happening in your worlds? The air feels a bit colder, costumed characters are wandering about, and even the occasional drop of candy or cake? Don't worry, because Halloween is a special time where everyone gets into the spirit of the season in the world of Terraria! Here is a taste of what you can expect to find during this special seasonal event, which runs each year in-game from October 20th – November 1st! Goodie Bags can drop from any defeated enemies – be sure to collect and open these for a chance and special Halloween-themed loot. From special Halloween costumes to unique paintings and even some unique gear, you never know what you might find inside! Special Halloween-Only rare drops are out there for the taking NPCs have special seasonal items up for sale – be sure to check in for a chance to pick up unique outfits and more! Harvesting Pumpkins can yield a special surprise for those whose pumpkin patches are truly sincere. Even the critters and enemies are getting into the act – keep an eye out for your favorite monsters all dressed up for the season. (just remember not to open the door for trick or treating Zombies!) For full details, check out the Terraria Halloween Event page on the Official Terraria Wiki > https://terraria.gamepedia.com/Halloween Happy Halloween!!!
Games like Minecraft 16 best games like Minecraft from the past ten years
Oct 16, 2019 - Rock, Paper, Shotgun
There have been a great many games like Minecraft over the past decade. Which is to be expected, because who wouldn't want to capitalise on the runaway mainstream success of the decade, and the best-selling video game of all time? There are many things that are very special about Minecraft, and remain more or less unmatched even ten years later; but we've done our very best to condense all that specialness down into a simple list of six criteria, and from there, we've compiled our list of the 16 best games like Minecraft out there right now. Some of these games you might look at and think, "But Ollie, my dear fellow! You must be crazy! This game looks nothing like Minecraft!" Bear with me, and I'll explain exactly why each game on this list has earned its place there. Each of these games are well worth a try if you enjoy Minecraft for whatever reason. And who knows? You might find your new favourite game within this very list… (more…)
The best Terraria builds for each class
Aug 22, 2019 - PC Gamer
Welcome to our guide to the best Terraria builds. Among the game's many systems, there are few as poorly explained as the Terraria classes system. In fact, it's hardly mentioned at all, its existence may even be news to you. If you're in that camp, or you're just looking for a refresher, below is our breakdown, along with the equipment you should be keeping an eye out for. What Terraria classes are there? There are four main classes in Terraria. Rather than being based on stats or anything that a traditional RPG would use, your class is defined by your equipment. While it's possible to mix and match these classes, it's rarely wise to.  There's is a fifth class—one that uses throwing weapons—it gets outclassed so quickly you're better off sticking to one of the others. These are your four main classes: Melee In most cases, melee characters are close-range fighters who hit things, but that's not always the case in Terraria. While some of the weapons this class uses are designed for close-quarters combat, we also get boomerangs, and projectile-firing swords. Melee armour boasts the highest defensive values in the game, so this is a great class for beginners. Ranged Ranged characters use a combination of bows and guns to deal huge damage quickly. What's more, you have special weapons that turn your arrows into bees, or fire piranhas. That might sound cool, but you'll need to grind to keep on time of crafting your special ammo stocks. Magic Terraria mage builds offer some frankly obnoxious spells. This includes ray guns, short range spikes, and controllable fireballs—and that's just the early game. Later on you'll wield massive beams of light, meteor showers, and a rainbow gun. While mages can unleash high damage, their relative lack of armour means you needplenty of healing potions in your inventory. Summons If you prefer to delegate tasks rather than do the dirty work yourself, this is the class for you. Summoners call on spiders, imps, and dragons to do their fighting for them. That said, you'll need a backup weapon if enemies get dangerously close. Summoner is the closest you'll get to a mixed class, and it's handy for farming specific ores. Getting started You'll need to wait a while before you can properly choose your class: it's unlikely you'll get class-specific armour until you've taken out the first few bosses. Your best bet is to create some gold or platinum weapons and armour and stick to that until you've defeated the first major targets.  A good way to get a good weapon early is to dig underground and raid chests you come across; just use whatever feels good or drops with decent stats. It's also worth grabbing any stars that fall to increase your mana and hunting down life crystals to boost your maximum health. Both actions will make you more powerful, and mana is essential to Mages and Summoners. Y...
E3 2019 games every game confirmed
Jun 13, 2019 - Rock, Paper, Shotgun
They just keep coming don't they? A lot of games were announced at E3 2019, things that we didn't know about, as well as stuff that's previously announced, or expansions to already released games. Now, to the casual outsider, what we're doing might seem absolutely nuts, but we thought we'd put together an alphabetical list of all the PC games that have been confirmed to appear at this year's E3 show. With well over a hundred of them now in the books, the next year or so looks packed. (more…)