Current Video Game Statistics for the Current-Gen Gamer

Dota 2 Update - January 16th, 2020
Jan 16, 2020 - Product Update
- We've removed variability in the amount of MMR you gain or lose from a match. This means that there will no longer be matches that give results like +10/-40. - Instead of matches giving 25 MMR, solo games will now give 30 MMR and party games will now give 20 MMR. We have more confidence in the impact of a player on the game when they are solo compared to in a party, and thus we are willing to move a player's MMR faster/slower depending on that. - We have removed the Fast/Slow queue and replaced it with Ranked Roles and Ranked Classic. To play in Ranked Roles you need to earn Role Queue games by playing matches while selecting all roles--this is unchanged from before. Ranked Classic has replaced the Slow Queue, and it does not let you select roles. We are making this change because the slow/fast queue concept has not been successful in producing good quality games. The end result was slow queue waiting a little bit longer, and then forcing very bad quality matches on the entire player pool. We think it's a fair requirement to enforce that if you want to have the advantage of playing a specific role, you have to contribute to the matchmaking system by sometimes playing other roles, or just queue role-less as in previous years.
Spring 2020 Call to Arms
Jan 9, 2020 - Community Announcements
As another year creeps up on the heroes of the Dota universe, and yesterday's wardrobe begins to look slightly more threadbare, we'd like to invite all Dota 2 Workshop creators to dream up some new fashions and assorted finery to help your favorite heroes look their best as they head into battle in the new year. To that end, we are now officially accepting any and all submissions that you feel inspired to create -- without any seasonal or thematic restrictions. Make sure to mark your submissions with the "Spring 2020" tag when tendering items to the Workshop. We request that all submissions be on the Dota 2 Workshop by Monday, March 2, 2020. As usual, we would like to ask artists to avoid the use of any concepts that involve human skulls, blood, and gore. Additionally, all Dota fans should remember to regularly visit the Workshop and vote through the Queue to ensure your voices are heard in the selection process.
Dota 2 Update - January 7th, 2020
Jan 7, 2020 - Product Update
* Fixed Mango Tree being placeable in areas like the Roshan walls
New Top Steam Game: CS:GO player counts have officially overtaken Dota 2
Jan 5, 2020 - PC Gamer
Counter-Strike: Global Offensive has now reliably pushed past Dota 2's peak and average player counts, making the shooter the more popular of Valve's big online games and the top game on Steam. For December 2019, CS:GO posted peak users of 767,000 while Dota 2 reached nearly 628,000.  Though CS:GO started to pull ahead of Dota 2 last year, CS:GO has now claimed the top spot for four months in a row—it's not a fluke, but a trend, and we can officially pass the symbolic crown. Dota 2's all-time player peak was 1.2 million in January 2015, with a return to that number in January and February 2016. Counter-Strike: Global Offensive's all-time peak player count was 850,000 in March 2016. Both have been enduringly popular games with multiple famous eSports moments. CS:GO in particular has produced many amazing plays over the past decade.  Dota 2's player counts for 2019 peaked at over one million in February, but have experienced general decline, with a drop in December after the huge Outlanders update. That's not too surprising, as Outlanders thoroughly reworked many of Dota 2's game systems. That drop is comparable to the drop in overall users social media platforms suffer every time they rework the user interface. Dot Esports reports that Dota 2's average player counts are the lowest they've been since 2014, when it was still a relatively new and growing game. Many in the Dota 2 community attribute the slow drop in players to the game's infamously bad new-player experience. None of this analysis would be possible without the magic of Steam Charts. All of these numbers, of course, are small in comparison to the world's most popular PC game: League of Legends' peak player counts are well into the millions. 
Dota 2 Update - January 3rd, 2020
Jan 3, 2020 - Product Update
- Fixed a bug that caused Frostivus chat wheels and consumable items to not be usable. - Fixed a bug where some neutral creeps would not correctly de-aggro. - Fixed a bug where the armory UI would not scroll to a typed hero name. - Mouse clicks are now lower priority on friendly wards than enemy wards. - Labels for items on the ground now appear after a short delay when holding Alt. - Add an alias "Inai" for Void Spirit so that you can search for that on the hero grid. - Turbo: The neutral item drop schedule is now 7 minutes earlier in Turbo games.
Dota 2 Update - December 26th 2019
Dec 26, 2019 - Product Update
* Visage: Restored previous Stone Form helper ability * Fixed Sange and upgrades amps stacking with themselves * Fixed Holy Locket stacking with itself
The decade, as told in grappling hooks
Dec 23, 2019 - Rock, Paper, Shotgun
The last ten years have brought us many joys. We've already celebrated the best games of the past decade, but with such scattergun nomination comes neglect. Only three of the fifty games we picked had grappling hooks, so clearly the entire endeavour was pointless and you will need an alternative resource. Here's my definitive guide to the swinging tenties. I haven't mentioned Worms, because they get everywhere and I don't want to spend my whole day talking about helminths. (more…)
Dota 2 Update - December 19th, 2019
Dec 19, 2019 - Product Update
- Role selection has been disabled for very high-rank games, to improve match quality and matchmaking time.
Ogre Magi Arcana Frostivus Reward Line
Dec 18, 2019 - Community Announcements
http://cdn.dota2.com/apps/dota2/images/blogfiles/ogma_flockhearts_gamble_blg975z.jpg In today's update, two heads are better than one, and three heads are better than that, as the all-new Flockheart's Gamble Arcana item for Ogre Magi makes its grand debut. Featuring all-new custom animations and effects—including a new Firelark mount, Multicast streak counter, enhanced ability effects, and more—the Flockheart's Gamble Arcana ushers in a new era of Ogre supremacy and bestows even more blessings from the Goddess of Luck. With three heads available to plan cunning new battle tactics, Ogre Magi might just be the most advanced hero Dota has ever seen. Not content to arrive without fanfare, Flockheart's Gamble also brings with it a special Frostivus rewards line, filled with a hoard of seasonal delights like gifts, penguin-inclusive celebrations, chat wheel sounds—and even a Winter Treasure. Win normal matchmaking games to progress along the rewards line and collect your haul. Additional Winter Treasures are available for $2.49, and feature new item sets for Ancient Apparition, Death Prophet, Treant Protector, Alchemist, Bane, Leshrac, Sven, Dark Willow, and Mirana—as well as a very rare Ursa set and extremely rare Tiny set.
Dota 2 Update - December 17th 2019
Dec 17, 2019 - Product Update
* Added the Strict Solo Matchmaking option back for fast queue games * For players with large spreads between their core and support MMRs, there is now a one medal (5 stars) max delta clamp. When the ranks for these players are maximally apart, the two ranks will fall and rise together. * Increased the variety of party combinations that are valid, to help improve matchmaking quality and queue times in some cases, in part as a result of the strict solo queue addition (for example this means that makeups like 2-2-1 will valid)
Dota 2 Update - December 9th 2019
Dec 9, 2019 - Product Update
* Bounty Runes are now locked to 5 minute intervals in terms of their gold values (so getting a 6 minute bounty isn't higher than a 5 minute one).
The best games of the decade on PC
Dec 6, 2019 - Rock, Paper, Shotgun
It's been an eventful decade for PC games, and it would be hard for you to summarise everything that's happened in the medium across the past ten years. Hard for you, but a day's work for us. Below you'll find our picks for the 50 best games released on PC across the past decade. (more…)
Dota 2 Update - December 6th, 2019
Dec 6, 2019 - Product Update
Void Spirit * Aether Remnant damage reduced from 90/150/210/270 to 80/130/180/230 * Dissimilate damage reduced from 120/200/280/360 to 100/180/260/340 * Resonant Pulse base shield absorption reduced from 50/100/150/200 to 40/80/120/160 * Resonant Pulse damage reduced from 70/130/190/250 to 70/120/170/220 Snapfire * Firesnap Cookie now works on rooted targets
Dota 2 Update - December 3rd, 2019
Dec 3, 2019 - Product Update
Snapfire - Lil' Shredder mana cost increased from 75 to 90 - Lil' Shredder damage reduced from 45/60/75/90 to 40/55/70/85 - Lil' Shredder attack speed slow per stack reduced from 20/25/30/35 to 15/20/25/30 - Firesnap Cookie cooldown reduced from 24/22/20/18 to 24/21/18/15 - Firesnap Cookie projectile speed increased from 800 to 1000 - Firesnap Cookie cast point reduced when used on self from 0.4 to 0.3 - fixed Rubick Arcana cape not changing color when stealing spells from Void Spirit or Snapfire
Dota 2 Update - December 2nd, 2019
Dec 2, 2019 - Product Update
Void Spirit * Dissimilate damage reduced from 140/220/300/380 to 120/200/280/360 * Resonant Pulse cooldown increased from 14 to 16 * Resonant Pulse mana cost increased from 90/100/110/120 to 100/110/120/130 * Level 15 Talent reduced from +150 Resonant Pulse Damage to +100 Resonant Pulse Damage Snapfire * Fixed Lil' Shredder charges not being consumed when Snapfire's passives were disabled
Dota 2 Update - November 29th, 2019
Nov 29, 2019 - Product Update
* Fixed various cases where Cooldown Reduction was not stacking multiplicatively * Fixed a case where Outposts could give XP to a team twice
Dota 2 Update - November 26th 2019
Nov 26, 2019 - Product Update
* Fixed couriers giving xp (was supposed to be reverted before)
Dota 2 Update - November 26th, 2019
Nov 26, 2019 - Product Update
- Fixed XPM display being incorrect
Dota 2's big Outlanders Update goes live with new heroes and dramatically changed gameplay
Nov 26, 2019 - PC Gamer
Void Spirit and Snapfire, the new Dota 2 heroes that were revealed in August, are now live in the game as part of the big Outlanders Update that rolled out today. Known less poetically as the 7.23 gameplay update, Outlanders also adds a new neutral building type called Outposts and neutral item drops, increases hero levels to 30, and makes major changes to core gameplay. The first new hero, Void Spirit, is the fourth and eldest of Dota 2's "spirit brethren," which also includes Storm, Earth, and Ember. "Able to step into and out of the mortal plane at will, he easily outmaneuvers opponents to strike from wherever he desires, calling upon the powers of the aether to shield him in times of need," the update page says. Here's what he brings to the fight: * Aether Remnant - Void Spirit dispatches a remnant aspect of himself to stand sentinel over a small area. The remnant peers in a single direction, waiting to pull in and damage enemies that cross its gaze. * Dissimilate - Void Spirit temporarily fades into the aether, creating a number of portals through which he can reassemble himself and cause damage to enemies in the area where he reappears. * Resonant Pulse - Void Spirit wraps himself in a protective shield that absorbs physical damage and emits a single damaging pulse around him. The shield gains increased damage absorption for each enemy hero the pulse hits. * Astral Step - Void Spirit consumes a charge to rip through reality into the astral plane, damaging all enemies along the rift path and inflicting a void mark that slows and detonates for significant damage. More interesting, I think, is Beatrix Snapfire, a goblin grandmother on a dragon toad named Mortimer who will bake you cookies or blow your face off, as the mood strikes: "The Outlands are littered with the bones of bandits and ne'er-do-wells who thought to take advantage of her small stature and propensity for kindness." This is what she can do: * Scatterblast - Snapfire unloads with a wide blast from her trusty scattergun that damages and slows enemies. Particularly effective at point-blank range. * Firesnap Cookie - Snapfire feeds a potent cookie to Mortimer or an ally, causing them to hop a short distance. The hopping unit stuns and damages enemies in the landing zone. * Lil' Shredder - Snapfire unleashes a volley of fixed-damage attacks with her lizard-mounted battle cannons, gaining rapid fire and bonus attack range while slowing the attack speed of enemies she hits. * Mortimer Kisses - Snapfire rears up on Mortimer, guiding his aim as he launches burning globs of firespit that damage on impact and linger on the ground to slow enemies and cause more damage over time. Outposts, the new neutral buildings, are located where Side Shops used to be, and can be controlled by right-clicking for six seconds, although more players channeling will hasten the process. Capturing an outpost grants an immediate XP bonus, followed by further bo...
The Outlanders Update
Nov 26, 2019 - Community Announcements
http://cdn.dota2.com/apps/dota2/images/blogfiles/723blog432dfs.png Today's update unleashes two new heroes — Snapfire and Void Spirit — and unveils the 7.23 Gameplay Update, featuring a host of changes, all-new features, and multiple reworked items and abilities. Head over to The Outlanders update page for a full list of all the changes now available.
Dota 2's The International 9 was the Game's Most Watched Event Ever with Over 1 Million Viewers on Twitch
Aug 26, 2019 - GitHyp
The International 2019 made headlines earlier this month when it became the biggest prize pool ever for an esports tournament with $34 million on the line. And with so much at stake, early Sunday morning, Dota 2 set even more records with its first-ever back-to-back champions and its highest viewer count ever on Twitch. Last year's champions, Europe's OG, absolutely dominated this year's event which went late into Saturday night and peaked with 1.1 million viewers early Sunday morning during their 3-1 Grand Final victory over Europe's team Liquid.
After last year's TI8 Grand Finals saw a 100k decline in viewers, this year's TI9 had an impressive comeback with a 51% increase in viewership on Twitch. But what was most impressive about this year's record-breaking stream for Dota 2 was the timing of the live stream on Twitch. With most of Twitch's regular viewer base still asleep in the United States when this year's main event ended at 8AM ET/ 5AM PT, TI9 crushed Dota 2's previous peak of 845k viewers that took place during more normal hours two years ago at TI7 in Seattle.
Dota 2's Player Base is the Highest it's Been in 2 Years
Feb 11, 2019 - GitHyp
Once Steam's most popular game (before PUBG took over), Dota 2's player base has been on a steady decline since peaking with over a million concurrent players back in 2016. But a new user-created custom game mode and less competition from Blizzard have resulted in Steam's second most popular game making a comeback with Dota 2's player counts now the highest they've been in two years. Similar to Dota's own origin story, a custom map created by Chinese developer, Drodo Games, called "Auto Chess" has captured the attention of Dota 2's player base in a way that Valve once dreamed only Artifact could. In Auto Chess, players fight across an 8x8 field that mimics a chessboard using Dota's own heroes for game pieces. Auto Chess' gameplay has been able to create its own little niche of MOBA players who want a greater focus on strategy and less emphasis on fast-paced APM.
Dota 2's in-game counter for Auto Chess has at times shown over 200k concurrent players, which helps explain Dota 2's own 17% increase in players from January's 491k average to an average of 573k over the past 30 days. And while Auto Chess can account for most of Dota 2's new/returning players, another factor has been Blizzard's announcement that they'll be shifting focus away from Heroes of the Storm. Considered the third most popular MOBA in the world behind League of Legends and Dota 2, news of Blizzard moving developers to other projects and canceling HotS' major esports events has made Dota's community look even more appealing to HotS players looking to abandon ship. Auto Chess isn't likely to become the next Dota or PUBG creating a new genre overnight, but with its popularity increasing among players, streamers, and catching on even more in China, Valve shouldn't take any chances letting this developer get away – especially not with Artifact dropping outside of Steam's top 100 most played games.
Dota 2's The International 2018 Finale was Down Over 100k Viewers Compared to Last Year on Twitch
Aug 27, 2018 - GitHyp
Even with a better first day, bigger prize pool, and an epic storybook ending, this year's biggest Dota 2 event couldn't manage to top last year's viewers on Twitch. The International 8's grand finals brought in a peak of 730k concurrent viewers as Europe's OG took China's PSG.LGD all the way to the very last game of a best-of-five heart-pounding finale. But while OG's Cinderella story had Dota 2's analysts, commentators, and viewers all on the edge of their seats in what many consider TI's greatest grand finals, it fell short of last year's peak of 845k viewers. TI7's far less exciting finale featuring EU's Team Liquid taking home the victory over Newbee in just 3 quick games. And resulted in an impressive 44% increase in viewership compared to TI6 on Twitch which is still Dota 2's most watched stream ever.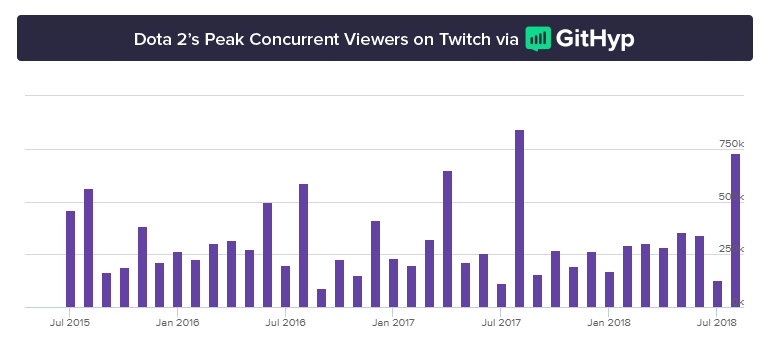 Known for having the biggest single event prize pool in all of esports, The International once again set a new peak of $25 million this year with OG taking home $11 million for first place. However, the $23.9 million contributed by players just barely topped last year's player contribution of $23.2 million. And surprisingly, it was Day 1 of TI8 that had 100k more viewers than last year's event. But with player counts down 35% since Dota 2's peak two years ago and other games like Fortnite taking over Twitch, we predicted that TI8 wouldn't be able to top TI7's finale. One thing we didn't see coming, however, was Valve's unexpected and accidental reveal of their own streaming service, Steam.tv, which contributed to the decline in viewers on Twitch. Their new site pulled away over 80k viewers from Twitch during TI8's final matches – but even with the numbers combined, TI7's viewership still fell short of last year's record-setting peak.
Dota 2's Viewer Base and Prize Pool is Bigger Than Ever at The International 2018
Aug 21, 2018 - GitHyp
With a peak of 1.3 million players back in March 2016, the decline of Dota 2's player base and the rise of PUBG on Steam has led to many claiming that Valve's popular MOBA is a "dead game." But even with the player base at half of what it once was, Dota 2 is far from dead when looking at the game's stats and popularity as a competitive esport. Last year's biggest Dota 2 event, The International 7, saw its peak viewers on Twitch increase by 44% compared to TI6's grand finals going from a peak of 588k viewers to 845k viewers.
This year, TI8 on Twitch is already off to a better start with a peak of 645k viewers on its first day. An increase of 100k viewers when compared to 2017's first day peak of 546k viewers. Dota 2's remaining player base have also proven their loyalty and demand for more in-game content by contributing $23 million towards the free-to-play game's Battle Pass system and increasing TI8's total prize pool to $25 million – the largest it's ever been and an increase of over $200k compared to last year. The International 8's grand finals are set for this Saturday, August 25th, and while it might not see another 44% increase in viewers, the event should be able to continue its growth and top last year's peak concurrent viewers on Twitch.
Dota 2 Hits New Viewer Peak with The International Up 44% Compared to Last Year on Twitch
Aug 15, 2017 - GitHyp
More Dota 2 viewers than ever tuned in over the weekend to watch The International 7 on Twitch. And with good reason. The Valve-sponsored event for their multiplayer online battle arena game had its highest prize pool ever with a shocking $24 million on the line and the champs taking home over $10 million. Getting into the Twitch numbers, Dota 2 brought in a peak of 845k viewers as Team Liquid defeated Newbee in Saturday's Grand Final. This was an impressive 44% increase in viewers compared to last year when TI6 brought in 588k viewers at its peak. [caption id="attachment_284426" align="aligncenter" width="770"]

Dota 2's Peak Viewer Counts on Twitch via GitHyp[/caption] The increase in popularity has also brought Dota 2 closer than ever to topping its biggest competition, League of Legends. Riot's MOBA hit its own all-time peak of 988k viewers back in 2015, but compared to 2016, LoL's viewership for its own World Championship event was actually down 5% last October on Twitch. TI7 also helped put Dota 2 over 1 billion total views on Twitch. An impressive number, however, LoL still more than doubles that with 2.1 billion as Twitch's most watched game. But in terms of big eSports competitions, both MOBAs still have a way to go before dethroning Counter-Strike: Global Offensive's record-setting 1.1 million peak viewers that the Valve shooter brought in earlier this year.
Steam's Most Played Games of 2016
Jan 7, 2017 - GitHyp
2016 was another great year for games, but it was also a year filled with the the rise and fall of many new games that over-promised and under-delivered. As a result, Steam's list of most played games in 2016 ended up looking almost the exact same as it did in 2015. Last year's top titles held their spots as newcomers who started off strong quickly lost their player bases by the end of the year. Looking at new releases on Steam in 2016 tracked hourly by GitHyp, the highly hyped and highly controversial, No Man's Sky, had the highest peak player count with 212k concurrent players in a single hour.
Dota 2 / 1,286,617 peak players (#1 in 2015)
Counter-Strike: Global Offensive / 845,806 peak players (#2 in 2015)
No Man's Sky / 212,321 peak players (new)
XCOM 2 / 132,834 peak players (new)
Dark Souls III / 129,922 peak players (new)
Other newcomers such as XCOM 2 (132k players) and Dark Souls III (129k players) also had great launches, but only peaked at half of NMS' record-setting number to round out the top 5. While No Man's Sky, XCOM 2, Dark Souls III, and others such as Tom Clancy's The Division and Total War: Warhammer all had strong launches, none were able to hold their ground and each had huge drops in players that made headlines. Other previous heavy-hitters also made headlines due to under-performing launches such as Call of Duty which was down 76% from last year and Watch Dogs 2 which dropped 61% since the last entry in the series. When looking at the more stable average players per hour metric, 2016 ended the same as 2015 with the exception of Fallout 4 -- which didn't just fall out of the top 5, but also the top 10 at #12.
Dota 2 / 636,607 avg. players per hour (#1 in 2015)
Counter-Strike: Global Offensive / 360,600 avg. players per hour (#2 in 2015)
Team Fortress 2 / 50,802 avg. players per hour (#4 in 2015)
Grand Theft Auto V / 40,258 avg. players per hour (#5 in 2015)
Sid Meier's Civilization V / 37,885 avg players per hour (#9 in 2015)
Dark Souls III dropped to #21 on Steam with an average of 14,186 players per hour. No Man's Sky dropped all the way down to #41 on Steam with an average of 8,393 players per hour. And XCOM 2 barely made the top 50 coming it at #44 with an average of 7,815 players per hour. When looking at the average players per hour, it was actually the free-to-play team-based shooter, Paladins, that ended as 2016's strongest new release ranking in at #15 on Steam with an average of 22,809 players per hour.