Current Video Game Statistics for the Current-Gen Gamer

The International 2019 Collector's Cache
Jul 12, 2019 - Community Announcements
http://cdn.dota2.com/apps/dota2/images/blogfiles/ti9_collectors_cache_2_blog2_9dsh8sa.png The International 2019 Collector's Cache returns for another round, featuring multiple items from this year's Call to Arms as well as some hidden workshop gems for a span of favorite heroes—including a Rare set for Necrophos, a Very Rare set for Ember Spirit, and an Ultra Rare set for Juggernaut. Available now for $2.49, unboxing thirteen of these treasures will automatically grant you thirty-two Battle Levels, and the odds of receiving a bonus rare item increase with each one you open. You can also recycle any unwanted sets for two Battle Levels. Volume II of the Collector's Cache will only be available for the next thirty days and is the only way to receive these exclusive item sets, apart from the Ultra Rare Juggernaut set which will be marketable near the end of 2020 after next year's tournament concludes. As is tradition, 25% of each sale contributes directly to The International prize pool. Once again, we'd like to thank all of the community artists who tendered submissions to the Dota 2 Workshop, as well as the entire Battle Pass community for your support.
The Summer Scrub
Jul 10, 2019 - Community Announcements
http://cdn.dota2.com/apps/dota2/images/blogfiles/summerscrub2019_blimjbbh.png The sun is shining, the creeps are marching, and it's the perfect time to open up the proverbial windows and give the Dota world a healthy scrub. To that effect, we'll be working on an update focused on bug fixes that should help get the lanes in good shape as we head into the final stretch before The International. To assist in our efforts, we'd love the Dota community to put on your bug-hunting hats and sound off on any bugs you've encountered during your games. While we will be primarily looking for bug reports, we are also interested in adding some quality-of-life improvements, so if you have any ideas please don't hesitate to share. Up next for the Battle Pass, we are aiming to ship the Kid Invoker Hero Persona with next Friday's update on the 19th.
Dota 2 Update - July 10th, 2019
Jul 10, 2019 - Product Update
Immortal Treasures: - Added custom sound effects for Pugna, Timber, Lion, Warlock, Centaur and Lifestealer immortals. Mo'rokai: - Added a 100 point reward for losses. - Increased the point reward for winning to 300 from 250 (the total for winning with a bonus token is unchanged). - Jungle Map and Weather effects are no longer automatically applied - Each team now has two guaranteed bans. - Increased experience, gold and essence gain by 30%. - Wagering and Tipping have been added. - Updated the Mo'rokai Event page in the dashboard. - Penalties are now being assessed for abandons, and games should now be correctly marked as safe to leave when appropriate. - Fixed a bug that prevented wins from applying towards Jungle Expedition and Daily/Weekly Quest progress. - Fixed a bug that allowed players to not be assigned a hero if they were disconnected during the hero pick phase. - Fixed a bug that caused bonus tokens not awarding the correct number of additional points. Players are being granted 1000 points for each bonus token consumed, up to that users point cap for the week in which it was consumed.
Special Battle Pass Event and Immortal Treasure II
Jul 5, 2019 - Community Announcements
http://cdn.dota2.com/apps/dota2/images/blogfiles/mkai_treasii_blogzimbh.jpg Wrath of the Mo'rokai Deep in the jungles of Fellstrath, the ruins of an ancient civilization lie hidden beneath tangled canopy and creeping vine. In today's update, all Battle Pass owners can choose to queue up to face the Wrath of the Mo'rokai, as two ancient guardians rise from slumber to wreak havoc on the age-old battle of the Ancients. To join the battle at full strength, the Mo'rokai require tributes of essence that will help them reclaim dormant abilities and greatly aid those who fight by their sides. Players can gather essence from slain enemies and other caches around the Dota map to guide which arcane powers the Mo'rokai develop. When the Mo'rokai march into the lanes, choose your strategy wisely to make the most of your new ally. The Mo'rokai are powerful, but even they are emboldened with friendly heroes nearby. Work together with your Mo'rokai to destroy the enemy Ancient and you'll earn 250 Battle Points for each victory, up to a weekly total of 2000 points. You'll also have the chance to unearth special Battle Point bonus bundles throughout the game to split with your team. Each week will offer one chance to win with a Battle Point bonus active that will net you 1000 points for the victory. Your weekly point total and number of bonus games will increase as you raise your Battle Level—reaching level 150 will bestow a 3000 point cap with two weekly bonus games and level 252 will increase the total to 4000 points with three weekly bonus games. All of your Battle Pass features are active while playing Wrath of the Mo'rokai, so don't hesitate to take a Jungle Expedition or Daily Challenge hero into battle or sound off to friends and enemies with your favorite chat wheel lines. Immortal Treasure II To help welcome the Mo'rokai to the fight, Immortal Treasure II is also now available, featuring all-new items for Dazzle, Timbersaw, Grimstroke, Pugna, Warlock, and Luna. In addition, each of these treasures that you open also offers increasing odds of receiving a rare demonic mane for Lion, a very rare Golden version of the Luna or Timbersaw items, or an ultra rare celestial mantle for Ember Spirit. There's also the cosmically rare chance to discover the Overgrown Emblem custom hero effect. All Battle Pass owners can find an Immortal Treasure II ready to unbox in the Armory, and you can earn more treasures by increasing your Battle Level. Check out a preview of the new items and custom effects from today's treasure over on the Battle Pass page. To help players enjoy more time in the jungles of Fellstrath on the hunt to earn ever more treasure, we'll be extending this year's Battle Pass features for two additional weeks after the conclusion of The International Grand Finals.
Dota Underlords seems great, but only for those versed in Dota
Jul 4, 2019 - Rock, Paper, Shotgun
I fell pretty deep down the Dota 2 hole. I d say the game served as another life for a teenager that didn t really have one, but that would undersell what Dota 2 was for me. I played hours of it, every single evening, for several years in a row. That phase had as much to do with the friends I chatted with than the wizards I clicked on, but at the moment that s besides the point. The point is that I m currently falling for Dota Underlords, but only because I know the game it's based on like the back of my RSI-riddled hand. (more…)
How Artifact became Valve's biggest failure
Jul 3, 2019 - Eurogamer
Artifact is a mess. 101 players are in game at the time of writing, with the 24 hour peak being only marginally better at 124. Valve hasn't said anything about the game since 29th March, when the company announced the team will "be heads-down focusing on addressing these larger issues instead of shipping updates". The most action Artifact has seen on Twitch in recent months was when people decided to stream full length movies and porn in the game's section. Artifact, at least for now, is a dead game, and arguably Valve's most spectacular failure to date. "It was a couple of weeks before the Artifact launch, and I was like, they can't really launch it like this can they?" Sean "Swim" Huguenard tells Eurogamer. By this point Swim had been in the Artifact closed beta for almost a year, and had submitted "several pages of pretty lengthy feedback" to the development team. He made a name for himself in the world of Gwent, having been one of the top deck creators, had consulted on other games, and planned to go into Artifact when it launched as both a content creator and pro player, aiming to make it to the $1m tournament Valve had planned for early 2019, even signing with esports organisation Evil Geniuses. So he certainly knew more than most when it came to card games. But it seemed the feedback from him, and other top card game players, was being ignored during the beta. Read more
Dota 2 Update - July 2nd 2019
Jul 2, 2019 - Product Update
- Some more minor performance improvements (including improvements to Wukong's Command) - Fixed Pangolier's Rolling Thunder interaction with knockback abilities - Fixed Ogre Magi's Multicast continuing to stun if you buyback quickly - Fixed a bug that caused Monkey King to have one less soldier in the area
Steam Charts: Summer Sale Silliness sEdition
Jul 1, 2019 - Rock, Paper, Shotgun
If there's one thing that's guaranteed to sweep through the Steam Charts like a giant fart, it's a Steam Sale. Blowing out all the fresh, original or interesting new releases, the mid-year discount warehouse (Junction 45 off the M91) ensures it's a top 10 of games you already bought or decided you don't want to buy. So who is buying them? Baddies. You lot are the goodies. It's the baddies who do this to us. (more…)
Dota 2 Update - June 28th 2019
Jun 28, 2019 - Product Update
Earlier today we disabled a loophole that allowed players to purchase two of the Weekend Bundle rather than just one. Enough people exploited this loophole that we have decided that, for the next 24 hours only, we will give a chance for players who did not exploit it to also buy up to two bundles total within the client directly.
Which is the best auto chess game for you? Here's our handy guide to the major players
Jun 27, 2019 - Eurogamer
So, you want to get into Auto Chess games. ACs...Auto Battlers? Regardless of what you call them, these games have quickly become some of them most popular and exciting games out right now. The genre is simple on the surface. Using money you acquire every turn, you buy units from a shared pool that smack the enemy's units until either you or your opponent wins. But the beauty's in the depth. There's plenty of variables to consider once you're deep into Auto Battlers, like items, the placement of your units, unit upgrades, character classes / factions and the bonuses they provide. Once you better understand these games they reveal themselves to be the hardcore strategy titles they truly are, demanding you play meticulously or end up beaten or worse, broke. Dota Auto Chess, Dota Underlords, Teamfight Tactics and Auto Chess all have their distinct differences and individual perks, and everyone's bound to have a favourite. This article will introduce you to all four of the Auto Chess games and delve into what sets them apart from the others, highlighting unique features to help you figure which ones to start playing. Read more
Dark Willow Announcer Pack
Jun 25, 2019 - Community Announcements
http://cdn.dota2.com/apps/dota2/images/blogfiles/dark_willow_ann_blgimz.png Today's update unleashes the new Dark Willow Announcer Pack, available to all Battle Pass owners who flutter to Battle Level 75 and above. Featuring the voice of the inimitable Mireska Sunbreeze, this pack replaces the default announcer and mega-kill exclamations with the rogue fae's take on every game, helping ensure you'll never miss your mark in battle again. Eligible players can claim the pack from the Battle Pass rewards line, and once unbundled, you can equip the announcer and mega-kills from the Global Items menu in the Heroes tab. Today's update also includes several fixes that we've identified to improve performance in the game client. In other Battle Pass news, we're nearly complete with work on Immortal Treasure II and the Wrath of the Mo'rokai special event, and expect to unveil both next week.
The auto chess wars have begun
Jun 22, 2019 - Eurogamer
The auto chess wars have begun. Sparked by the surprise success of the Dota auto chess mod, created by Chinese team Drodo Studio, a number of big-name publishers and developers have quickly turned around efforts of their own - and they're proving early doors big hits. Auto chess games are "auto battlers", that is, they're turn-based competitive multiplayer strategy games in which you send units out onto a board divided up into squares, then the combat plays out automatically. There's more to the genre than this, of course, but that's essentially it. Read more
Valve releases standalone version of Auto Chess called Dota Underlords
Jun 14, 2019 - Eurogamer
Valve has released a new game - Dota Underlords. Dota Underlords is the company's standalone take on the Auto Chess explosion - and is sparked by the hugely popular Dota Auto chess mod for Dota 2. Like Dota Auto Chess, Dota Underlords doesn't really have anything to do with chess, except it's played out on a board. Like Dota Auto Chess, Dota Underlords pits you against seven opponents and involves building, combining and leveling up a crew of characters from the Dota universe. Round after round you buy new characters, discover powerful items, deploy them on the board and watch the combat play out automatically. It's not about twitch reflexes. Rather, this is a considered turn-based strategy game in which you can sit back and watch the action play out. Read more
Valve launch Dota Underlords early for 2019 Battle Pass owners
Jun 13, 2019 - Rock, Paper, Shotgun
Defying all we thought we knew about Valve Time, the studio have just simultaneously titled and launched Dota Underlords. It's Valve's take on ultra-popular Dota 2 mod Auto Chess, which they had been teasing for a while now. While the game will eventually be free-to-play, with an open beta due in approximately a week, they've just opened the floodgates to anyone with a Dota 2 2019 Battle Pass. It supports eight players online and has AI bots to play against too. Below, a video from YouTuber "Kripparrian" giving it a quick peek. (more…)
Dota Underlords is Valve's version of Auto Chess and you can play it right now
Jun 13, 2019 - PC Gamer
Valve has officially revealed Dota Underlords, its standalone version of Dota Auto Chess that we first heard rumors about a month ago. In fact, it's playable today for anyone who owns the Dota 2 Battle Pass.  "For the last few weeks, we've been running a Friends and Family Beta, and today we're expanding it to include all Dota 2 Battle Pass owners," Valve wrote. "With your help, we'll be stress testing our servers as we prepare for our Open Beta."  The current build of the game will enable players to take part in eight-way multiplayer matches, practice offline against bots with difficulty settings ranging from easy to hardcore, and play cooperatively against bots or other players. Ranked matchmaking, cross-play, and cross-saving will be added once the game enters open beta.  "We're sharing Dota Underlords fairly early in development. And while we intend to constantly be updating the game and adding features throughout the Beta Season, your feedback is critical to help the team know what issues are important to you," Valve wrote. "On the main screen we've added a 'Submit Feedback' button to the game. Feel free to wear it out. Tell us what you love, and tell us what could be better. We welcome it all."  If you own the Dota 2 Battle Pass, you'll find a link to Dota Underlords on the Dota 2 dashboard in your Steam library; if you don't own it and want to, hit up dota2.com and get ready to spend a tenner. And if you'd rather wait, you won't have to wait long: Valve said the Dota Underlords open beta will begin in about a week. Meanwhile, the original modders behind Auto Chess are making a version with help from Epic Games. 
Inside Dota 2's racism storm
Jun 13, 2019 - Eurogamer
The world of pro Dota 2 is no stranger to drama and controversy. Gabe Newell once called a esports host an "ass" and fired him mid broadcast after he opened the show with jokes about Chinese porn. Players have written 7500-word blog posts about not being paid. And a tournament's Major status was revoked mere weeks before the event because players were worried about failing Filipino drug tests. But now there is another controversy in the world of Dota involving racism, massively offensive comments, and players having to make a stand in order to get some kind of acknowledgement from Valve. WARNING: THE FOLLOWING CONTAINS LANGUAGE SOME MAY FIND OFFENSIVE Read more
Auto Chess creators bringing their own standalone version to PC
Jun 11, 2019 - Rock, Paper, Shotgun
Not only are Valve making a standalone version of mega-hit Dota 2 mod Dota Auto Chess, the mod's creators yesterday announced they're releasing a standalone Auto Chess on PC too. And this came mere hours after Riot Games announced an Auto Chess clone mode for League Of Legends. It's rare to see a mod attempt to bloom into a full genre in real time. (more…)
League Of Legends riffing on Dota Auto Chess with Teamfight Tactics
Jun 10, 2019 - Rock, Paper, Shotgun
Riot Games have announced a new League Of Legends mode named Teamfight Tactics, which is heavily inspired by Dota 2 mod Auto Chess. Y'know, the turn-based mod about buying and melding AI-controlled heroes, which has grown so popular that Valve are making an official standalone spin-off. Teamfight Tactics looks like that but in LoL and with a few tweaks to make it fresh and friendlier. It'll first launch on June 24th. This seems the point that Auto Chess goes from a mod to a genericised mode, which I suppose is fitting considering MOBAs are a genre grown from autocannibalism. (more…)
Dota 2 Update - June 5th 2019
Jun 5, 2019 - Product Update
Added a new camera test convar "dota_camera_alternative" that takes a number input for different camera setting configurations. This convar will only be around short term and the input mappings may change.
Dota 2 now selling premium pass for Auto Chess mod
Jun 3, 2019 - Rock, Paper, Shotgun
While Valve work away on their own standalone version of Dota Auto Chess, they're helping the original Dota 2 mod by making it one of the select few selling paid premium features in the game's store. Launched over the weekend, the Auto Chess Pass gives a month of fancy cosmetic bits and bonus rewards for less than a quid. It's mostly just fancybits, with the mod still free for everyone to play in full. This is pretty rare for Valve to do, especially given their caution following the Steam paid mods fiasco. (more…)
Dota 2's Player Base is the Highest it's Been in 2 Years
Feb 11, 2019 - GitHyp
Once Steam's most popular game (before PUBG took over), Dota 2's player base has been on a steady decline since peaking with over a million concurrent players back in 2016. But a new user-created custom game mode and less competition from Blizzard have resulted in Steam's second most popular game making a comeback with Dota 2's player counts now the highest they've been in two years. Similar to Dota's own origin story, a custom map created by Chinese developer, Drodo Games, called "Auto Chess" has captured the attention of Dota 2's player base in a way that Valve once dreamed only Artifact could. In Auto Chess, players fight across an 8x8 field that mimics a chessboard using Dota's own heroes for game pieces. Auto Chess' gameplay has been able to create its own little niche of MOBA players who want a greater focus on strategy and less emphasis on fast-paced APM.
Dota 2's in-game counter for Auto Chess has at times shown over 200k concurrent players, which helps explain Dota 2's own 17% increase in players from January's 491k average to an average of 573k over the past 30 days. And while Auto Chess can account for most of Dota 2's new/returning players, another factor has been Blizzard's announcement that they'll be shifting focus away from Heroes of the Storm. Considered the third most popular MOBA in the world behind League of Legends and Dota 2, news of Blizzard moving developers to other projects and canceling HotS' major esports events has made Dota's community look even more appealing to HotS players looking to abandon ship. Auto Chess isn't likely to become the next Dota or PUBG creating a new genre overnight, but with its popularity increasing among players, streamers, and catching on even more in China, Valve shouldn't take any chances letting this developer get away – especially not with Artifact dropping outside of Steam's top 100 most played games.
Dota 2's The International 2018 Finale was Down Over 100k Viewers Compared to Last Year on Twitch
Aug 27, 2018 - GitHyp
Even with a better first day, bigger prize pool, and an epic storybook ending, this year's biggest Dota 2 event couldn't manage to top last year's viewers on Twitch. The International 8's grand finals brought in a peak of 730k concurrent viewers as Europe's OG took China's PSG.LGD all the way to the very last game of a best-of-five heart-pounding finale. But while OG's Cinderella story had Dota 2's analysts, commentators, and viewers all on the edge of their seats in what many consider TI's greatest grand finals, it fell short of last year's peak of 845k viewers. TI7's far less exciting finale featuring EU's Team Liquid taking home the victory over Newbee in just 3 quick games. And resulted in an impressive 44% increase in viewership compared to TI6 on Twitch which is still Dota 2's most watched stream ever.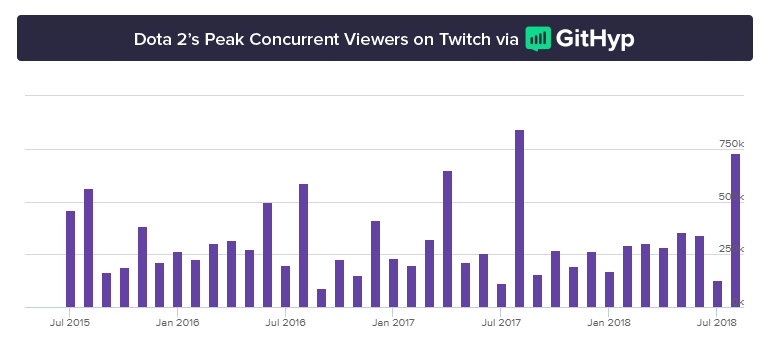 Known for having the biggest single event prize pool in all of esports, The International once again set a new peak of $25 million this year with OG taking home $11 million for first place. However, the $23.9 million contributed by players just barely topped last year's player contribution of $23.2 million. And surprisingly, it was Day 1 of TI8 that had 100k more viewers than last year's event. But with player counts down 35% since Dota 2's peak two years ago and other games like Fortnite taking over Twitch, we predicted that TI8 wouldn't be able to top TI7's finale. One thing we didn't see coming, however, was Valve's unexpected and accidental reveal of their own streaming service, Steam.tv, which contributed to the decline in viewers on Twitch. Their new site pulled away over 80k viewers from Twitch during TI8's final matches – but even with the numbers combined, TI7's viewership still fell short of last year's record-setting peak.
Dota 2's Viewer Base and Prize Pool is Bigger Than Ever at The International 2018
Aug 21, 2018 - GitHyp
With a peak of 1.3 million players back in March 2016, the decline of Dota 2's player base and the rise of PUBG on Steam has led to many claiming that Valve's popular MOBA is a "dead game." But even with the player base at half of what it once was, Dota 2 is far from dead when looking at the game's stats and popularity as a competitive esport. Last year's biggest Dota 2 event, The International 7, saw its peak viewers on Twitch increase by 44% compared to TI6's grand finals going from a peak of 588k viewers to 845k viewers.
This year, TI8 on Twitch is already off to a better start with a peak of 645k viewers on its first day. An increase of 100k viewers when compared to 2017's first day peak of 546k viewers. Dota 2's remaining player base have also proven their loyalty and demand for more in-game content by contributing $23 million towards the free-to-play game's Battle Pass system and increasing TI8's total prize pool to $25 million – the largest it's ever been and an increase of over $200k compared to last year. The International 8's grand finals are set for this Saturday, August 25th, and while it might not see another 44% increase in viewers, the event should be able to continue its growth and top last year's peak concurrent viewers on Twitch.
Dota 2 Hits New Viewer Peak with The International Up 44% Compared to Last Year on Twitch
Aug 15, 2017 - GitHyp
More Dota 2 viewers than ever tuned in over the weekend to watch The International 7 on Twitch. And with good reason. The Valve-sponsored event for their multiplayer online battle arena game had its highest prize pool ever with a shocking $24 million on the line and the champs taking home over $10 million. Getting into the Twitch numbers, Dota 2 brought in a peak of 845k viewers as Team Liquid defeated Newbee in Saturday's Grand Final. This was an impressive 44% increase in viewers compared to last year when TI6 brought in 588k viewers at its peak. [caption id="attachment_284426" align="aligncenter" width="770"]

Dota 2's Peak Viewer Counts on Twitch via GitHyp[/caption] The increase in popularity has also brought Dota 2 closer than ever to topping its biggest competition, League of Legends. Riot's MOBA hit its own all-time peak of 988k viewers back in 2015, but compared to 2016, LoL's viewership for its own World Championship event was actually down 5% last October on Twitch. TI7 also helped put Dota 2 over 1 billion total views on Twitch. An impressive number, however, LoL still more than doubles that with 2.1 billion as Twitch's most watched game. But in terms of big eSports competitions, both MOBAs still have a way to go before dethroning Counter-Strike: Global Offensive's record-setting 1.1 million peak viewers that the Valve shooter brought in earlier this year.
Steam's Most Played Games of 2016
Jan 7, 2017 - GitHyp
2016 was another great year for games, but it was also a year filled with the the rise and fall of many new games that over-promised and under-delivered. As a result, Steam's list of most played games in 2016 ended up looking almost the exact same as it did in 2015. Last year's top titles held their spots as newcomers who started off strong quickly lost their player bases by the end of the year. Looking at new releases on Steam in 2016 tracked hourly by GitHyp, the highly hyped and highly controversial, No Man's Sky, had the highest peak player count with 212k concurrent players in a single hour.
Dota 2 / 1,286,617 peak players (#1 in 2015)
Counter-Strike: Global Offensive / 845,806 peak players (#2 in 2015)
No Man's Sky / 212,321 peak players (new)
XCOM 2 / 132,834 peak players (new)
Dark Souls III / 129,922 peak players (new)
Other newcomers such as XCOM 2 (132k players) and Dark Souls III (129k players) also had great launches, but only peaked at half of NMS' record-setting number to round out the top 5. While No Man's Sky, XCOM 2, Dark Souls III, and others such as Tom Clancy's The Division and Total War: Warhammer all had strong launches, none were able to hold their ground and each had huge drops in players that made headlines. Other previous heavy-hitters also made headlines due to under-performing launches such as Call of Duty which was down 76% from last year and Watch Dogs 2 which dropped 61% since the last entry in the series. When looking at the more stable average players per hour metric, 2016 ended the same as 2015 with the exception of Fallout 4 -- which didn't just fall out of the top 5, but also the top 10 at #12.
Dota 2 / 636,607 avg. players per hour (#1 in 2015)
Counter-Strike: Global Offensive / 360,600 avg. players per hour (#2 in 2015)
Team Fortress 2 / 50,802 avg. players per hour (#4 in 2015)
Grand Theft Auto V / 40,258 avg. players per hour (#5 in 2015)
Sid Meier's Civilization V / 37,885 avg players per hour (#9 in 2015)
Dark Souls III dropped to #21 on Steam with an average of 14,186 players per hour. No Man's Sky dropped all the way down to #41 on Steam with an average of 8,393 players per hour. And XCOM 2 barely made the top 50 coming it at #44 with an average of 7,815 players per hour. When looking at the average players per hour, it was actually the free-to-play team-based shooter, Paladins, that ended as 2016's strongest new release ranking in at #15 on Steam with an average of 22,809 players per hour.