Current Video Game Statistics for the Current-Gen Gamer

Valve will make its own, standalone version of Dota Auto Chess mod
May 23, 2019 - Eurogamer
Valve has announced it will make its own version of the immensely popular Dota Auto Chess mod. What will become of the original mod is now unclear. Valve staff invited the mod's creators, Chinese team Drodo Studio, to meet with them in February. There were discussions about working together, a blog post from Valve states: "but we both came to the conclusion that Valve and Drodo could not work directly with each other for a variety of reasons. "We ended up agreeing that we'll each build our own stand-alone version of the game, and support each other to the fullest." Read more
Valve making Dota Auto Chess mod into standalone game
May 22, 2019 - Rock, Paper, Shotgun
Dota Auto Chess, the most popular mod in Dota 2 these days (and which has nothing to do with chess), is becoming a standalone game made by Valve themselves. I had not predicted that this would be Valve's next game. Valve say they talked with mod creators Drodo Studio about working together and, while dreams of collaboration fell flat, they did agree to each work on their own versions of it. Presumably some money is changing hands too? So Valve are now making a standalone Dota Auto Chess while Drodo are continuing to work on the mod as well as their own mobile game that basically just replaces the characters. So that's a game based on a mod for a game based on a Warcraft 3 mod based on a StarCraft mod. (more…)
Dota 2 s paid avoid player option is part of a pattern of developers sidelining anti-abuse features
May 19, 2019 - Rock, Paper, Shotgun
Dota 2's International 2019 Battle Pass has plenty of issues. As Matt wrote earlier this month, alongside a waterfall of cosmetics and a special mode, the pass will unlock an in-game assistant that seems to give owners an advantage over those who haven t forked over at least 7.50/$10. But (as reported by The Verge) the pass is paywalling another key feature the ability to avoid players. Obviously, you shouldn t have to pay to access the ability to not group up with abusive players. Valve calls this an experimental feature (by many accounts it s not working well), suggesting that it could be extended out to all players after this test on Battle Pass owners. More surprising, then, is the fact that Dota 2 has been out for six years without the option to not have to play with someone ruining the fun, whether it be throwing games or yelling slurs. And yet, even though how other people act is a huge part of the experience of many online games, giving players the ability to regulate their interactions often seems to be a secondary concern for developers. (more…)
Dota 2 Short Film Contest
May 16, 2019 - Community Announcements
http://cdn.dota2.com/apps/dota2/images/blogfiles/blog_filmcontest_2019.jpg We are pleased to announce that we're now accepting submissions for the 2019 Dota 2 Short Film Contest. Filmmakers have until the morning of August 7, 2019 to submit their short film creations of 90 seconds or less to the Dota 2 Steam Workshop to be eligible for consideration. As is tradition, we invite all fans to visit the Workshop to participate in the voting and discussion process to help us select the best entries to be showcased as part of The International 2019 broadcast. Upon review of the Workshop ratings and discussions, Valve will nominate the top entries to be featured in The International 2019 Battle Pass for a final voting process by the community to determine the winners. As before, each finalist that places in the top ten will be guaranteed to win $500, and the top three selections will be awarded prizes of $25,000, $10,000, and $5,000 in recognition of their contributions to the Dota community. More information and guidelines on the submission process can be found on the Dota 2 Short Film Contest site. Be sure to check in on the Workshop page regularly to help review the submissions you would like to see showcased at The International 2019.
Dota 2 Update - May 15th, 2019
May 15, 2019 - Product Update
* There was an issue that affected some players who used shovels in the first few hours of the battle pass release. We've granted additional shovels to the affected players.
Dota 2 Update - May 10th, 2019
May 10, 2019 - Product Update
* Fixed issues related to MMR wager tokens
The Dota 2 International 2019 Battle Pass includes lizards, a new mode, and problems
May 9, 2019 - Rock, Paper, Shotgun
The jungle is a rumblin', thanks to Dota 2's International 2019 Battle Pass. Nowadays Dota 2's Battle Passes aren't just big sticker books where you make predictions about how your favourite athletes will perform in the wizard world championships, they're books you have to buy if you want to play a special mode and access features that give you an advantage. That first inclusion is fair. The second seems… real bad? Ach, we'll get back to those. (more…)
The International 2019 Battle Pass
May 7, 2019 - Community Announcements
https://steamcdn-a.akamaihd.net/steamcommunity/public/images/clans/3703047/eba60e46371bcbbc97e556a4a4c465feeac0f7e0.jpg The International Battle Pass has arrived. Prepare to cut a path into the final months of the DPC season and discover an abundance of new and classic features—including a new game mode, living towers, consumables, a Coach's challenge, and of course a host of exclusive rewards. As is custom, 25% of all Battle Pass sales go directly to The International prize pool. Raise your Battle Level by embarking upon the Jungle Expedition, facing the upcoming Wrath of the Mo'rokai custom game, and completing other challenges and Achievements to unlock increasing amounts of mythic rewards. You can even use Wagering Tokens to score extra Battle Points from your weekly games to help you on your way. With reward line items like the custom 'Overgrown Empire' terrain, evolving courier, 'Majesty of the Colossus' Tiny Prestige Item, 'Planetfall' Earthshaker Arcana, weaponless 'Axe Unleashed' item set, and so much more, the yearly call to adventure begins now. Head over to The International 2019 Battle Pass page for more information on everything included in this year's tribute to the biggest Dota event of the year. With only one round of Major and Minor tournaments remaining before we turn our eyes to Shanghai, the next gameplay patch will arrive after the conclusion of the final Major and Minor DPC Qualifiers starting soon.
The International 2019 Battle Pass is now available
May 7, 2019 - PC Gamer
The Dota 2 International 2019 doesn't get underway until August, but The International Battle Pass, which grants owners access to exclusive content, features, and rewards, is available for purchase today. The "standard" Battle Pass can be had for $10, while higher level passes—with more rewards—are also available at discounted prices.  This year's pass includes Wrath of the Mo'rokai custom game mode, a Jungle Expedition, and unlockable "Guardians of the Lost Path" custom towers that "will never be tradable or purchasable on the marketplace"—you either unlock them with the Battle Pass, or you miss out.  New consumables, like the Trusty Shovel, the Snake Balloon, and the poop-flinging Silly Monkey will help you along the journey, a new Coach's Challenge will test your ability to guide lower-MMR players through matches, and new Party Finder will help you find fun people to play Dota 2 with, without having to screw around with your Steam Friends list. (Avoid Player, which does precisely the opposite, is also in there.) There's a new avatar banner, a High Five action, MVP voting, a new Versus screen, and more—it's a really extensive list.  Returning features—because that's just the new stuff—include the ability to double down MMR rewards (or losses) once per week, Immortal item recycling, wagering, ranked roles, in-game tipping, trivia, predictions, the Daily Hero Challenge, and a slew of rewards that increase with Battle Pass levels.  The point of all this, aside from loading up Dota 2 fans with stuff, is to pump up The International prize pool: 25 percent of Battle Pass sales are contributed to the pool, which is already pushing $2.7 million. The big show this year runs August 20-25. 
Has Dota 2 been improved by its updates?
May 1, 2019 - Rock, Paper, Shotgun
Update Night is a fortnightly column in which Rich McCormick revisits games to find out whether they've been changed for better or worse. I try not to make a habit of internalising internet comments, but I ll always remember one left on PC Gamer s Dota 2 review that came in when I worked there. Nobody should be reviewing Dota unless they have more than 500 hours played. The reviewer in question, the inimitable Chris Thursten, had north of 650 hours of Dota played at the time, and we told the commenter as much via reply. A few minutes later, another response came back. He needs 750 hours. (more…)
Watch pro Dota 2 players take on an AI team
Apr 15, 2019 - PC Gamer
Reigning Dota 2 world champions, OG went up against a virtual AI team in San Francisco this past weekend. You can watch the game above. If you're worried about spoilers, look away now.  OpenAI is the research organisation behind the fully AI team and has spent the last four years working on an artificial intelligence that can replicate human-level skill in Valve's Dota 2. OpenAI Five lost out at last years World Championships where it failed to defeat the two pro teams it was put up against.  The hard work paid off though and culminated in success this weekend at the OpenAI Five Finals with the AI winning the first two matches against OG but losing out on the third.  Practice makes perfect and that's certainly the case with OpenAI Five as the virtual team plays a whopping '180 years' worth of games every day' as part of its training. Phew! Thanks, VentureBeat.
Dota 2's black hole creating hero, Enigma, sees increased play after Powehi image
Apr 13, 2019 - Rock, Paper, Shotgun
This week we got a peek through the vastness of space, with the release of the very first image of a black hole ever captured by humans. Not long after, more players were making similar vast, galaxy destroying horrors in Dota 2 thanks to the abilities of mysterious hero Enigma. Correlation doesn t equal causation and all that, but it s not hard to imagine people getting nudged towards the character. After all, what s more human than seeing an incomprehensible celestial object and wanting one of your very own? (more…)
Update to Workshop Submission Process
Apr 2, 2019 - Community Announcements
With today's Steam update, we're making a change to the Workshop submission process to address fake item scams. First-time submissions to the Dota workshop will now require email verification before the item can be listed publicly. For those of you that have previously submitted Workshop items, you shouldn't see any change in functionality. Background What do we mean by fake item scams? If you browse the Workshop enough, you may have come across an item with an image of a rare skin, promising giveaways or free content. These items often contain phishing links that are used to compromise Steam accounts. https://steamcdn-a.akamaihd.net/steamcommunity/public/images/clans/3703047/68c02ac9e44500957df7707bd13fcfaedf008864.jpg In the past, our moderation team would review Workshop items reported by players. Fake item scams would then be deleted and our team would reach out to the owner of the account and let them know that their account is likely compromised. The problem with this approach was that some items went unreported for quite a while, allowing them to appear to players and get in the way of real submissions. New Process With today's update, Steam will send an email to the account owner when a new item is posted for the first time, asking them to review and confirm the item they just posted. If an item was posted without their knowledge, this email provides an easy path to recover the account and change their password. Our aim with this change is to reduce the potential for scams on the Steam platform, without creating unnecessary hassle for frequent Workshop creators. Let us know if you have feedback.
Valve's Dota Pro Circuit app lets you place wagers on matches
Mar 19, 2019 - PC Gamer
Valve has released a companion app for subscribers to Dota 2's premium monthly subscription service, Dota Plus. The app lets you keep track of match and tournament results, as well as keeping you informed about your favourite players and teams. And then it lets you place wagers on them.  The Dota Pro Circuit app, available for iOS and Android, will let you make 'predictions' on upcoming matches in the pro circuit, wagering your own shards—the Dota Plus exclusive in-game currency—in the hopes of adding to your pile. All the information you get about teams and players, then, can be used to make your predictions.  No cash changes hands, unlike in the third party gambling that surrounds the game, though technically those shards are linked to financial investment because the currency (and thus what you can spend it on) is only available if you pay for the Dota Plus subscription. That's $4 a month. That technicality isn't enough to make it gambling, however; at least not to rating organisations like PEGI, which has given it a 3 rating, essentially meaning it's appropriate for all ages.  The Dota Pro Circuit app feels like the latest in a years-long stream of game systems which have been pushing the debate around gaming systems and how close they come to gambling to the fore, though.  Probably the most well-known facet of the debate involves loot box systems which encourage players to open in-game Macguffins to obtain digital presents of variable rarity or desirability. Often these are boxes or chests you can earn over time in the game or choose to circumvent that grind using real money.  Another facet is the third-party gambling and trading scene around games like Valve's CS: GO where players circumvent Valve's systems in order to use in-game cosmetics as a gambling currency. The real money comes in when players make payments via third party sites and then use the steam trade function to hand over their digital goodies.  Despite the PEGI classification (and I should stress that PEGI do not set the legal definition of gambling, they're merely an enforcer), I'd argue the mechanics of the Dota Pro Circuit app's predictions are a lot closer to real-world gambling than, say, Overwatch's loot boxes.  You can study the teams, check the odds, place a bet with a cash stand-in, get that thrill when you get a shard windfall—the most significant difference is that it's all taking place within Dota 2. You can't head to the bank with your pile of shards and make a nest egg. It's a new grey area in a debate filled with grey areas.   The app's available now, and you can check out the full feature list here.
New Dota Plus Feature
Mar 15, 2019 - Community Announcements
http://cdn.dota2.com/apps/dota2/images/blogfiles/dpcmca_blog_im_zqyib.png Today marks the release of a new Dota Plus feature designed to enhance your experience for every Dota Pro Circuit event. Available now in the iOS App Store and the Google Play Store, the Dota Pro Circuit companion app lets you earn Shards by predicting the winners of DPC matches, compete for even more Shards in the Fantasy Challenge, and follow all of this season's DPC action in real time, all from the comfort and convenience of your mobile device. You'll be able to wager your personal stash of Plus Shards to predict the winners of DPC matches, with winnings added to your in-game total. The Fantasy Challenge offers the chance for more Shards, as you compete against your friends and the entire world to put together the best roster of pro players at each event. In addition, you'll have access to a dynamic News Feed that features your personalized favorite teams and players, helping you stay on top of every DPC development along the road to The International. Check out a full list of the app's features here. Android customers who are unable to access the Google Play Store can find a direct download here.
Epic responds to accusations its launcher accesses Steam data without permission
Mar 15, 2019 - Eurogamer
Epic has responded to growing concern its launcher accesses users' Steam data without permission. The company responded to a post on the subreddit for Phoenix Point, itself the focus of a controversy after signing a deal to go exclusive with the Epic Games store for a year, in which a user revealed the Epic Games store client pokes around your computer when it shouldn't. In the post, titled Epic Game Store, Spyware, Tracking, and You!, redditor notte_m_portent accused Epic of running processes and making attempts to access DLLs and root certificates without letting the user know. According to the post, the data obtained was found to be sent to Epic, and the Epic Games store app was found to store hardware information in the registry. Read more
The International 2019 Collector's Cache Call to Arms
Mar 14, 2019 - Community Announcements
The International 2019 is still over the horizon, but it's never too early to start exploring new treasure ideas for this year's event—which will have a theme focused on overgrown, enchanted jungle ruins. With that in mind, we invite all Dota 2 Workshop creators to venture into their flourishing imaginations on the hunt for new designs to include in this year's Collector's Cache to see what concepts bear fruit. As a slight change this year, please keep in mind that while we're happy to see item sets that feel at home in overgrown jungle ruins, artists should not feel constrained to working only within this year's event theme. We're interested to discover any high quality designs, regardless of motif. However, as in the past, we would still like to ask artists to avoid the use of any concepts that involve human skulls, blood, and gore. Make sure to mark your submissions with the "Collector's Cache 2019" tag when tendering items to the Workshop. All submissions must be on the Dota 2 Workshop by Sunday, May 12th. We encourage all Dota fans to regularly visit the Workshop and vote through the Queue to ensure your voices are heard in the selection process. In the meantime, our merchandise partners are also ready to create some new designs for this year's Dota 2 merchandise release. If you've got a concept you think will resonate with fans, submit your design to the Workshop with the "Merchandise" tag and see how much community support springs up.
Steam Link now lets you play games from any PC
Mar 14, 2019 - Eurogamer
Valve has announced a couple of new Steam features ahead of this year's GDC - although neither are to do with sorting its abject mess of a store curation policy. Steam Link Anywhere extends the ability to connect to your PC and play games remotely via the Steam Link hardware or app on a supported phone, tablet or TV. Now, you'll be able to connect to any other computer running Steam and play games remotely via the internet, too. The feature is described as being in early beta still - only those with beta firmware will see it at present. Valve warns you'll need a good connection. Read more
Dota 2 Update - March 11, 2019
Mar 11, 2019 - Product Update
Custom Games API: - Added GetDedicatedServerKeyV2 which utilizes a new approach for securing/generating the keys. Any custom game that relies on GetDedicatedServerKey to communicate with its backend will want to switch to the V2 version as soon as possible. - To give custom game authors time to switch to the new system, GetDedicatedServerKey will remain unchanged until 3/31/2019, after which will be automatically switched to V2. - When playing on local/unofficial servers, GetDedicatedServerV2 will return special values to make the state more clear for developers (e.g. "Invalid_NotOnDedicatedServer").
Mars attacks: Dota 2 s new hero is the god of war
Mar 6, 2019 - Rock, Paper, Shotgun
Mars! What is he good for? Absolutely loads of wars. Another hero has joined the ranks of Dota 2. He's a spear-chucking, shield-wielding melee carry who is big into war, because he is literally the god of it. I bet you Legion Commander fancies him. (more…)
Dota 2's Player Base is the Highest it's Been in 2 Years
Feb 11, 2019 - GitHyp
Once Steam's most popular game (before PUBG took over), Dota 2's player base has been on a steady decline since peaking with over a million concurrent players back in 2016. But a new user-created custom game mode and less competition from Blizzard have resulted in Steam's second most popular game making a comeback with Dota 2's player counts now the highest they've been in two years. Similar to Dota's own origin story, a custom map created by Chinese developer, Drodo Games, called "Auto Chess" has captured the attention of Dota 2's player base in a way that Valve once dreamed only Artifact could. In Auto Chess, players fight across an 8x8 field that mimics a chessboard using Dota's own heroes for game pieces. Auto Chess' gameplay has been able to create its own little niche of MOBA players who want a greater focus on strategy and less emphasis on fast-paced APM.
Dota 2's in-game counter for Auto Chess has at times shown over 200k concurrent players, which helps explain Dota 2's own 17% increase in players from January's 491k average to an average of 573k over the past 30 days. And while Auto Chess can account for most of Dota 2's new/returning players, another factor has been Blizzard's announcement that they'll be shifting focus away from Heroes of the Storm. Considered the third most popular MOBA in the world behind League of Legends and Dota 2, news of Blizzard moving developers to other projects and canceling HotS' major esports events has made Dota's community look even more appealing to HotS players looking to abandon ship. Auto Chess isn't likely to become the next Dota or PUBG creating a new genre overnight, but with its popularity increasing among players, streamers, and catching on even more in China, Valve shouldn't take any chances letting this developer get away – especially not with Artifact dropping outside of Steam's top 100 most played games.
Dota 2's The International 2018 Finale was Down Over 100k Viewers Compared to Last Year on Twitch
Aug 27, 2018 - GitHyp
Even with a better first day, bigger prize pool, and an epic storybook ending, this year's biggest Dota 2 event couldn't manage to top last year's viewers on Twitch. The International 8's grand finals brought in a peak of 730k concurrent viewers as Europe's OG took China's PSG.LGD all the way to the very last game of a best-of-five heart-pounding finale. But while OG's Cinderella story had Dota 2's analysts, commentators, and viewers all on the edge of their seats in what many consider TI's greatest grand finals, it fell short of last year's peak of 845k viewers. TI7's far less exciting finale featuring EU's Team Liquid taking home the victory over Newbee in just 3 quick games. And resulted in an impressive 44% increase in viewership compared to TI6 on Twitch which is still Dota 2's most watched stream ever.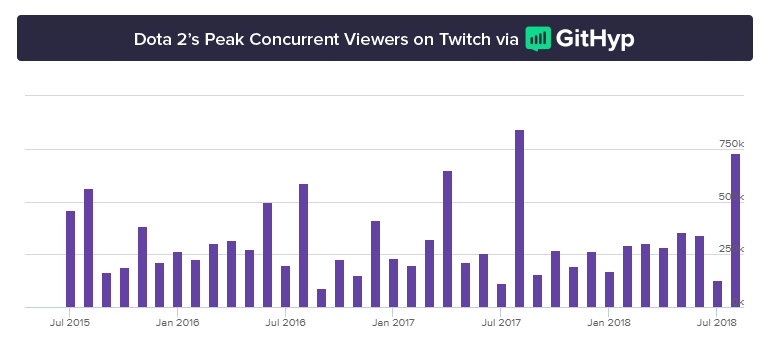 Known for having the biggest single event prize pool in all of esports, The International once again set a new peak of $25 million this year with OG taking home $11 million for first place. However, the $23.9 million contributed by players just barely topped last year's player contribution of $23.2 million. And surprisingly, it was Day 1 of TI8 that had 100k more viewers than last year's event. But with player counts down 35% since Dota 2's peak two years ago and other games like Fortnite taking over Twitch, we predicted that TI8 wouldn't be able to top TI7's finale. One thing we didn't see coming, however, was Valve's unexpected and accidental reveal of their own streaming service, Steam.tv, which contributed to the decline in viewers on Twitch. Their new site pulled away over 80k viewers from Twitch during TI8's final matches – but even with the numbers combined, TI7's viewership still fell short of last year's record-setting peak.
Dota 2's Viewer Base and Prize Pool is Bigger Than Ever at The International 2018
Aug 21, 2018 - GitHyp
With a peak of 1.3 million players back in March 2016, the decline of Dota 2's player base and the rise of PUBG on Steam has led to many claiming that Valve's popular MOBA is a "dead game." But even with the player base at half of what it once was, Dota 2 is far from dead when looking at the game's stats and popularity as a competitive esport. Last year's biggest Dota 2 event, The International 7, saw its peak viewers on Twitch increase by 44% compared to TI6's grand finals going from a peak of 588k viewers to 845k viewers.
This year, TI8 on Twitch is already off to a better start with a peak of 645k viewers on its first day. An increase of 100k viewers when compared to 2017's first day peak of 546k viewers. Dota 2's remaining player base have also proven their loyalty and demand for more in-game content by contributing $23 million towards the free-to-play game's Battle Pass system and increasing TI8's total prize pool to $25 million – the largest it's ever been and an increase of over $200k compared to last year. The International 8's grand finals are set for this Saturday, August 25th, and while it might not see another 44% increase in viewers, the event should be able to continue its growth and top last year's peak concurrent viewers on Twitch.
Dota 2 Hits New Viewer Peak with The International Up 44% Compared to Last Year on Twitch
Aug 15, 2017 - GitHyp
More Dota 2 viewers than ever tuned in over the weekend to watch The International 7 on Twitch. And with good reason. The Valve-sponsored event for their multiplayer online battle arena game had its highest prize pool ever with a shocking $24 million on the line and the champs taking home over $10 million. Getting into the Twitch numbers, Dota 2 brought in a peak of 845k viewers as Team Liquid defeated Newbee in Saturday's Grand Final. This was an impressive 44% increase in viewers compared to last year when TI6 brought in 588k viewers at its peak. [caption id="attachment_284426" align="aligncenter" width="770"]

Dota 2's Peak Viewer Counts on Twitch via GitHyp[/caption] The increase in popularity has also brought Dota 2 closer than ever to topping its biggest competition, League of Legends. Riot's MOBA hit its own all-time peak of 988k viewers back in 2015, but compared to 2016, LoL's viewership for its own World Championship event was actually down 5% last October on Twitch. TI7 also helped put Dota 2 over 1 billion total views on Twitch. An impressive number, however, LoL still more than doubles that with 2.1 billion as Twitch's most watched game. But in terms of big eSports competitions, both MOBAs still have a way to go before dethroning Counter-Strike: Global Offensive's record-setting 1.1 million peak viewers that the Valve shooter brought in earlier this year.
Steam's Most Played Games of 2016
Jan 7, 2017 - GitHyp
2016 was another great year for games, but it was also a year filled with the the rise and fall of many new games that over-promised and under-delivered. As a result, Steam's list of most played games in 2016 ended up looking almost the exact same as it did in 2015. Last year's top titles held their spots as newcomers who started off strong quickly lost their player bases by the end of the year. Looking at new releases on Steam in 2016 tracked hourly by GitHyp, the highly hyped and highly controversial, No Man's Sky, had the highest peak player count with 212k concurrent players in a single hour.
Dota 2 / 1,286,617 peak players (#1 in 2015)
Counter-Strike: Global Offensive / 845,806 peak players (#2 in 2015)
No Man's Sky / 212,321 peak players (new)
XCOM 2 / 132,834 peak players (new)
Dark Souls III / 129,922 peak players (new)
Other newcomers such as XCOM 2 (132k players) and Dark Souls III (129k players) also had great launches, but only peaked at half of NMS' record-setting number to round out the top 5. While No Man's Sky, XCOM 2, Dark Souls III, and others such as Tom Clancy's The Division and Total War: Warhammer all had strong launches, none were able to hold their ground and each had huge drops in players that made headlines. Other previous heavy-hitters also made headlines due to under-performing launches such as Call of Duty which was down 76% from last year and Watch Dogs 2 which dropped 61% since the last entry in the series. When looking at the more stable average players per hour metric, 2016 ended the same as 2015 with the exception of Fallout 4 -- which didn't just fall out of the top 5, but also the top 10 at #12.
Dota 2 / 636,607 avg. players per hour (#1 in 2015)
Counter-Strike: Global Offensive / 360,600 avg. players per hour (#2 in 2015)
Team Fortress 2 / 50,802 avg. players per hour (#4 in 2015)
Grand Theft Auto V / 40,258 avg. players per hour (#5 in 2015)
Sid Meier's Civilization V / 37,885 avg players per hour (#9 in 2015)
Dark Souls III dropped to #21 on Steam with an average of 14,186 players per hour. No Man's Sky dropped all the way down to #41 on Steam with an average of 8,393 players per hour. And XCOM 2 barely made the top 50 coming it at #44 with an average of 7,815 players per hour. When looking at the average players per hour, it was actually the free-to-play team-based shooter, Paladins, that ended as 2016's strongest new release ranking in at #15 on Steam with an average of 22,809 players per hour.