Current Video Game Statistics for the Current-Gen Gamer

Dota 2 Update - April 2nd 2020
Apr 2, 2020 - Product Update
- Fixed an exploit which duplicated neutral items. - Fixed Primal Split immolation dealing too much damage.
Dota 2 Update - April 1st 2020
Apr 1, 2020 - Product Update
- Further minor camera adjustments following the previous iteration
Artifact 2.0 won't sell you cards
Mar 31, 2020 - Rock, Paper, Shotgun
Artifact's developers have given up on selling people cards. When the closed beta for Artifact 2.0 kicks off, you'll have to earn every single card through playing – no market, no packs. Stingy pricing was just about the only thing holding the game back for me, so, hurray! It's part of a big relaunch. Valve have also mentioned some changes they're making to the game itself, including allowing "players to access all three lanes at once". That's pretty wild, too. (more…)
Dota 2 Update - March 26th 2020
Mar 26, 2020 - Product Update
- Fixed an XP bug that was recently introduced that caused streaks to give much more XP than intended
Failed Dota 2 card game Artifact is preparing for a massive comeback
Mar 21, 2020 - Rock, Paper, Shotgun
Valve are on something of a roll right now. Half-Life: Alyx is looking absolutely stunning ahead of next week's release. While Dota Underlords (and auto-battlers generally) might be on a bit of a downturn, it's hard to say it hasn't done well for itself. Now that they're back in full swing, it might be time for Valve to bring their dustiest skeleton out of the closet. Gabe Newell reckons it might be time for another shot at Artifact. (more…)
Gameplay Update 7.25
Mar 18, 2020 - Community Announcements
Dota Gameplay 7.25 is out now! Changelog can be viewed here.
Video games to play while you're self isolating and social distancing
Mar 18, 2020 - Rock, Paper, Shotgun
Unless you're in one of those international versions of Big Brother that are still going on, you've probably noticed that we're in the midst of a pandemic of something called the Covid-19 virus. I can tell it's serious because my dad's American girlfriend isn't allowed to visit him, which means he's bored and phoning me in the middle of the day. Haha, I joke. But he is 70, and has a weak heart, plus he's immunocompromised on account of catching Lyme disease from a tick once (which is exactly the sort of ridiculous thing that only happens to country dads). If you're anything like us, you're now at home, staring at the walls of your living room because of this social distancing thing. But it's not just you. In fact, all of RPS is now working from home for the foreseeable future, too. So in the spirit of camaraderie, I've pooled some suggestions for video games to play while we're self-quarantining. We've got some multiplayer ones, some board-gamey ones, and, of course, a healthy dollop of free ones. (more…)
Dota 2's Snapfire can now spit your pals at your enemies
Mar 18, 2020 - Rock, Paper, Shotgun
Dota 2's latest update has given everyone's favourite lizard-riding grandma the ability to swallow her friends and spit them at her enemies. If you thought being tossed by Tiny was annoying, wait until you're in the belly of Snapfire's salamander. (more…)
Dota 2 Update - March 5th, 2020
Mar 5, 2020 - Product Update
In this update we are introducing a new system for gathering data on the type of changes that are harder to evaluate or predict without very large number of games, such as gold bounty formula changes. We expect the number of times that we actually do this during the year to be very low, however when we do it it'll be during weekdays only at the lowest point of user activity, between 4 and 6PM Seattle time. In addition, we are adding a convar "dota_disable_experimental_gameplay" that can be used by players to disable it. Any gameplay changes will only be active in matchmaking games where no players have the convar set. The changes will never be active in lobby and league games. We recognize that in some cases players will back solve what changes were done, however we won't announce changes ourselves in part because we don't want players to overcompensate with knowledge of them and because generally we prefer to not reveal potential upcoming changes. Although the type of changes we are thinking about, like gold distribution, take much more than a game or two to show their full impact, we will still be able to get meaningful data and analysis on the direction and scale of changes.
Dota 2 Update - March 2nd, 2020
Mar 2, 2020 - Product Update
- The rarity of "Very Rare" treasure items has changed to be closer to the halfway point between "Rare" and "Ultra Rare" items.
Dota 2 Update - February 26th, 2020
Feb 26, 2020 - Product Update
- Fixed a bug with combining Bloodstone or Rapier when some components were in your backpack. - Fixed the interaction of backdoor protection and Lone Druid's Bear and Brewmaster's Primal Split. - When selling stacked wards both sentry and observer wards now restock correctly. - Fixed a bug where a gem stolen from the enemy team would credit the wrong player with bounty for wards killed. - Fixed a bug where a creep killing a ward did not award bounty gold to the player who placed the detection. - Fixed the interaction of Lone Druid's Spirit Bear and Magic Lamp. - Dark Seer's Surge and Legion Commander's Press the Attack with the AoE talents will no longer cause the caster to pivot when self-casting.
The International 2020 Collector's Cache Call to Arms
Feb 12, 2020 - Community Announcements
We're six months away from The International 2020 in Stockholm, but it's never too early to start dreaming up new treasure ideas for this year's event — meaning that it's time once again to invite all Dota 2 Workshop creators to plumb the depths of their imaginations for new designs to include in the next Collector's Cache. Similar to last year, we're not looking for sets confined within a specific theme. We encourage artists to explore any ideas they think will be compelling additions to their favorite hero's item collection. We would, however, still like to ask artists to avoid the use of any concepts that involve human skulls, blood, and gore. Make sure to mark your submissions with the "Collector's Cache 2020" tag when tendering items to the Workshop. All submissions must be on the Dota 2 Workshop by Monday, April 27th. We encourage all Dota fans to regularly visit the Workshop and vote through the Queue to ensure your voices are heard in the selection process. Our merchandise partners are also ready to create some new designs for this year's Dota 2 merchandise release. If you've got a concept you think will resonate with fans, submit your design to the Workshop with the "Merchandise" tag and see how much community support it garners.
Dota 2 Update - February 11th, 2020
Feb 11, 2020 - Product Update
We are making our smurf detection system more sensitive in this update. This change will much more proactively target potential smurf accounts, but may on rare occasion give a normal player extra MMR.
Best free games for 2020
Feb 11, 2020 - Rock, Paper, Shotgun
When you're looking for the best free games on PC, what are you looking for? We think we've got you covered with our selection below, whether it's browser games you can start playing instantly, free-to-play games to rival anything you'd spend money on, or downloadable games that you can play for a lifetime. (more…)
Dota 2 Update - February 6th, 2020
Feb 6, 2020 - Product Update
- Neutral items held by Lone Druid's Spirit Bear now show as held by Lone Duid in the neutral items tab. - Neutral items that have been consumed now show as "Consumed" in the neutral items tab. - Neutral items that have been dropped on the ground outside the fountain, or are otherwise unaccounted for, are shown as "Unknown" in the neutral items tab. - When you open the shop, if you had the neutral items tab open last, open the basic tab instead. - The "Show Popular Items" button (star icon) in the shop is now a saved preference, and will not default to enabled when you start a new match. - Toggling the "lock combining" option on items carried by the courier will no longer cause the courier to return to base.
Dota 2's International 2019 documentary lured me in as a non-sports watcher
Jan 29, 2020 - Rock, Paper, Shotgun
"They're like monkey business men", says Team Liquid member Kuroky, "they will GO". Liquid are gathered around for a quick smoke before the Dota 2 International 2019 finale, about to face Team OG. They're visibly nervous, despite Kuroky's repeated insistence that they should "feel free", and treat this like a scrim. Another team member insists that it IS a scrim, and Kuroky immediately reneges on his own words. "In a way", he says. "It's a costly scrim though." The first five minutes of Valve's True Sight documentary have sucked me right in. It's a feature length film showing drama from inside the player booths, between match pep talks, and the matches themselves. They're all so sweet. (more…)
Dota 2 Update - January 27th 2020
Jan 27, 2020 - Product Update
* Fix quickcast bindings both neutral items and TP
True Sight World Premiere — The International 2019
Jan 27, 2020 - Community Announcements
http://cdn.dota2.com/apps/dota2/images/blogfiles/truesight_teaser_2020_asdfkljsadlkj.jpg Join the pros who battled in The International Grand Finals — World Champions OG and runners-up Team Liquid (now the newly-dubbed Nigma) — alongside a live theater audience in Berlin, Germany on January 28th for the world premiere of True Sight: The International 2019. OG made history in Shanghai last August by successfully defending their hold on the Aegis of Champions, becoming not only the first team to win The International in back-to-back years, but the first ever to carve their names into the Aegis for a second time. Now, fans from around the globe can tune in live — right here on Steam or on Twitch — on Tuesday, January 28th at 7:00 p.m. CET to see exactly how the story unfolded, as the teams themselves relive the epic journey at the world premiere event hosted by Grand Finals casters ODPixel and Fogged — and joined by The International broadcast stalwarts Kaci and Slacks.
Dota 2 Update - January 24th 2020
Jan 24, 2020 - Product Update
* As a result of the experimental dota_camera_alternative option that has been in testing since summer, we've adjusted the default camera position. The console command "dota_camera_legacy 1" will adjust your settings to match the old camera if you prefer it.
New Bloom Treasure
Jan 23, 2020 - Community Announcements
http://cdn.dota2.com/apps/dota2/images/blogfiles/nb_2020treasure_blog_image_rtyo.png Just in time for Lunar New Year and the Rat's time in the cyclical place of honor, the Treasure of Unbound Majesty is now available. Packed full of sets for Drow Ranger, Visage, Undying, Storm Spirit, Dazzle, Kunkka, Arc Warden, Dark Willow, and Rubick, this treasure also includes the chance to unbox a rare Puck set, very rare Legion Commander set, or an extremely rare Templar Assassin set. Available for $2.49 in the Dota 2 store, you can claim one of these treasures as a gift for completing the New Bloom rewards line—which also unlocks this year's seasonal New Bloom Celebrations and giftable spins on the rewards wheel.
Dota 2's The International 9 was the Game's Most Watched Event Ever with Over 1 Million Viewers on Twitch
Aug 26, 2019 - GitHyp
The International 2019 made headlines earlier this month when it became the biggest prize pool ever for an esports tournament with $34 million on the line. And with so much at stake, early Sunday morning, Dota 2 set even more records with its first-ever back-to-back champions and its highest viewer count ever on Twitch. Last year's champions, Europe's OG, absolutely dominated this year's event which went late into Saturday night and peaked with 1.1 million viewers early Sunday morning during their 3-1 Grand Final victory over Europe's team Liquid.
After last year's TI8 Grand Finals saw a 100k decline in viewers, this year's TI9 had an impressive comeback with a 51% increase in viewership on Twitch. But what was most impressive about this year's record-breaking stream for Dota 2 was the timing of the live stream on Twitch. With most of Twitch's regular viewer base still asleep in the United States when this year's main event ended at 8AM ET/ 5AM PT, TI9 crushed Dota 2's previous peak of 845k viewers that took place during more normal hours two years ago at TI7 in Seattle.
Dota 2's Player Base is the Highest it's Been in 2 Years
Feb 11, 2019 - GitHyp
Once Steam's most popular game (before PUBG took over), Dota 2's player base has been on a steady decline since peaking with over a million concurrent players back in 2016. But a new user-created custom game mode and less competition from Blizzard have resulted in Steam's second most popular game making a comeback with Dota 2's player counts now the highest they've been in two years. Similar to Dota's own origin story, a custom map created by Chinese developer, Drodo Games, called "Auto Chess" has captured the attention of Dota 2's player base in a way that Valve once dreamed only Artifact could. In Auto Chess, players fight across an 8x8 field that mimics a chessboard using Dota's own heroes for game pieces. Auto Chess' gameplay has been able to create its own little niche of MOBA players who want a greater focus on strategy and less emphasis on fast-paced APM.
Dota 2's in-game counter for Auto Chess has at times shown over 200k concurrent players, which helps explain Dota 2's own 17% increase in players from January's 491k average to an average of 573k over the past 30 days. And while Auto Chess can account for most of Dota 2's new/returning players, another factor has been Blizzard's announcement that they'll be shifting focus away from Heroes of the Storm. Considered the third most popular MOBA in the world behind League of Legends and Dota 2, news of Blizzard moving developers to other projects and canceling HotS' major esports events has made Dota's community look even more appealing to HotS players looking to abandon ship. Auto Chess isn't likely to become the next Dota or PUBG creating a new genre overnight, but with its popularity increasing among players, streamers, and catching on even more in China, Valve shouldn't take any chances letting this developer get away – especially not with Artifact dropping outside of Steam's top 100 most played games.
Dota 2's The International 2018 Finale was Down Over 100k Viewers Compared to Last Year on Twitch
Aug 27, 2018 - GitHyp
Even with a better first day, bigger prize pool, and an epic storybook ending, this year's biggest Dota 2 event couldn't manage to top last year's viewers on Twitch. The International 8's grand finals brought in a peak of 730k concurrent viewers as Europe's OG took China's PSG.LGD all the way to the very last game of a best-of-five heart-pounding finale. But while OG's Cinderella story had Dota 2's analysts, commentators, and viewers all on the edge of their seats in what many consider TI's greatest grand finals, it fell short of last year's peak of 845k viewers. TI7's far less exciting finale featuring EU's Team Liquid taking home the victory over Newbee in just 3 quick games. And resulted in an impressive 44% increase in viewership compared to TI6 on Twitch which is still Dota 2's most watched stream ever.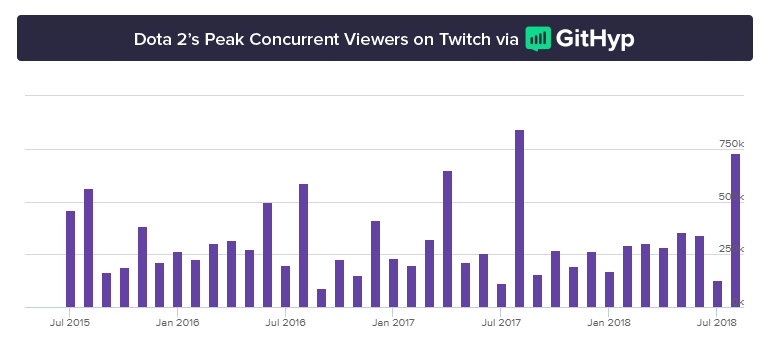 Known for having the biggest single event prize pool in all of esports, The International once again set a new peak of $25 million this year with OG taking home $11 million for first place. However, the $23.9 million contributed by players just barely topped last year's player contribution of $23.2 million. And surprisingly, it was Day 1 of TI8 that had 100k more viewers than last year's event. But with player counts down 35% since Dota 2's peak two years ago and other games like Fortnite taking over Twitch, we predicted that TI8 wouldn't be able to top TI7's finale. One thing we didn't see coming, however, was Valve's unexpected and accidental reveal of their own streaming service, Steam.tv, which contributed to the decline in viewers on Twitch. Their new site pulled away over 80k viewers from Twitch during TI8's final matches – but even with the numbers combined, TI7's viewership still fell short of last year's record-setting peak.
Dota 2's Viewer Base and Prize Pool is Bigger Than Ever at The International 2018
Aug 21, 2018 - GitHyp
With a peak of 1.3 million players back in March 2016, the decline of Dota 2's player base and the rise of PUBG on Steam has led to many claiming that Valve's popular MOBA is a "dead game." But even with the player base at half of what it once was, Dota 2 is far from dead when looking at the game's stats and popularity as a competitive esport. Last year's biggest Dota 2 event, The International 7, saw its peak viewers on Twitch increase by 44% compared to TI6's grand finals going from a peak of 588k viewers to 845k viewers.
This year, TI8 on Twitch is already off to a better start with a peak of 645k viewers on its first day. An increase of 100k viewers when compared to 2017's first day peak of 546k viewers. Dota 2's remaining player base have also proven their loyalty and demand for more in-game content by contributing $23 million towards the free-to-play game's Battle Pass system and increasing TI8's total prize pool to $25 million – the largest it's ever been and an increase of over $200k compared to last year. The International 8's grand finals are set for this Saturday, August 25th, and while it might not see another 44% increase in viewers, the event should be able to continue its growth and top last year's peak concurrent viewers on Twitch.
Dota 2 Hits New Viewer Peak with The International Up 44% Compared to Last Year on Twitch
Aug 15, 2017 - GitHyp
More Dota 2 viewers than ever tuned in over the weekend to watch The International 7 on Twitch. And with good reason. The Valve-sponsored event for their multiplayer online battle arena game had its highest prize pool ever with a shocking $24 million on the line and the champs taking home over $10 million. Getting into the Twitch numbers, Dota 2 brought in a peak of 845k viewers as Team Liquid defeated Newbee in Saturday's Grand Final. This was an impressive 44% increase in viewers compared to last year when TI6 brought in 588k viewers at its peak. [caption id="attachment_284426" align="aligncenter" width="770"]

Dota 2's Peak Viewer Counts on Twitch via GitHyp[/caption] The increase in popularity has also brought Dota 2 closer than ever to topping its biggest competition, League of Legends. Riot's MOBA hit its own all-time peak of 988k viewers back in 2015, but compared to 2016, LoL's viewership for its own World Championship event was actually down 5% last October on Twitch. TI7 also helped put Dota 2 over 1 billion total views on Twitch. An impressive number, however, LoL still more than doubles that with 2.1 billion as Twitch's most watched game. But in terms of big eSports competitions, both MOBAs still have a way to go before dethroning Counter-Strike: Global Offensive's record-setting 1.1 million peak viewers that the Valve shooter brought in earlier this year.
Steam's Most Played Games of 2016
Jan 7, 2017 - GitHyp
2016 was another great year for games, but it was also a year filled with the the rise and fall of many new games that over-promised and under-delivered. As a result, Steam's list of most played games in 2016 ended up looking almost the exact same as it did in 2015. Last year's top titles held their spots as newcomers who started off strong quickly lost their player bases by the end of the year. Looking at new releases on Steam in 2016 tracked hourly by GitHyp, the highly hyped and highly controversial, No Man's Sky, had the highest peak player count with 212k concurrent players in a single hour.
Dota 2 / 1,286,617 peak players (#1 in 2015)
Counter-Strike: Global Offensive / 845,806 peak players (#2 in 2015)
No Man's Sky / 212,321 peak players (new)
XCOM 2 / 132,834 peak players (new)
Dark Souls III / 129,922 peak players (new)
Other newcomers such as XCOM 2 (132k players) and Dark Souls III (129k players) also had great launches, but only peaked at half of NMS' record-setting number to round out the top 5. While No Man's Sky, XCOM 2, Dark Souls III, and others such as Tom Clancy's The Division and Total War: Warhammer all had strong launches, none were able to hold their ground and each had huge drops in players that made headlines. Other previous heavy-hitters also made headlines due to under-performing launches such as Call of Duty which was down 76% from last year and Watch Dogs 2 which dropped 61% since the last entry in the series. When looking at the more stable average players per hour metric, 2016 ended the same as 2015 with the exception of Fallout 4 -- which didn't just fall out of the top 5, but also the top 10 at #12.
Dota 2 / 636,607 avg. players per hour (#1 in 2015)
Counter-Strike: Global Offensive / 360,600 avg. players per hour (#2 in 2015)
Team Fortress 2 / 50,802 avg. players per hour (#4 in 2015)
Grand Theft Auto V / 40,258 avg. players per hour (#5 in 2015)
Sid Meier's Civilization V / 37,885 avg players per hour (#9 in 2015)
Dark Souls III dropped to #21 on Steam with an average of 14,186 players per hour. No Man's Sky dropped all the way down to #41 on Steam with an average of 8,393 players per hour. And XCOM 2 barely made the top 50 coming it at #44 with an average of 7,815 players per hour. When looking at the average players per hour, it was actually the free-to-play team-based shooter, Paladins, that ended as 2016's strongest new release ranking in at #15 on Steam with an average of 22,809 players per hour.