Current Video Game Statistics for the Current-Gen Gamer

Dota 2's latest ranked season is dropping decade-long bans
Sep 19, 2019 - Rock, Paper, Shotgun
Dota 2's stuck around for a good while now. We're only a few years off from a decade of Valve's fantasy murder brawl, with no signs of slowing down. But will Dota 2 be relevant in 10 years? 20? Will I still be doting over my MMR when I'm a haggard old crone, fending off water-raiders with the last good knife while I wait for the underlords at Valve to find me a game? Some unfortunate sods will certainly hope so. A new season comes with another ban wave – and these suspensions are nothing to scoff at. (more…)
Dota 2 is banning some players until 2038
Sep 18, 2019 - PC Gamer
Dota 2 is getting ready for the next ranked season, kicking off tomorrow, which also means getting rid of some of the game's naughtier players. Valve announced that it would be banning people in various waves, which started yesterday. What it didn't mention was the length of the bans, and some players are now discovering their account is in jail for up to 19 years.   The Steam forum and subreddit are full of people complaining about getting banned for nearly two decades, and even more people revelling in their comeuppance. It's an oddly specific date, but Valve didn't choose it. January 19, 2038 is the latest date that can be set using 32-bit time representation, it turns out, so if you've received a 19-year ban, you're probably banned forever.  Valve is planning to start issuing weekly bans in the coming weeks, too, which will strike without warning. Banned accounts will also have the associated phone number blacklisted from being able to access ranked matchmaking. Valve also hopes to reduce the amount of smurf accounts, recently fixing a loophole that let them play without a unique phone number.  Check out the Dota 2 blog for more details on the update. 
Dota 2 Update - September 14th, 2019
Sep 14, 2019 - Product Update
* Fixed Night Stalker's scepter hitting invisible units and units in FoW * Fixed Heavenly Grace removing some debuffs it shouldn't
Dota 2 Update - September 6th, 2019
Sep 6, 2019 - Product Update
* Reduced the TI Battle Pass Shovel cooldown from 60 to 20 seconds
Dota 2 Update - September 5th, 2019
Sep 5, 2019 - Product Update
Over the next few weeks we'll be experimenting with toggling strict solo queue on and off, to see the impact it can have on match quality and matchmaking times. The primary reason we initially added this feature was because there was a much larger discrepancy in motivation between players competing for solo MMR and players competing for party MMR, resulting in a poor experience overall. This discrepancy is not as pronounced now as before, and each option that does a hard split of the matchmaking pools has to be considered carefully as it has a direct influence on the matchmaker's ability to find the best matches available.
The International 2019 was Twitch's most-watched Dota 2 event ever
Aug 26, 2019 - PC Gamer
OG's decisive 3-1 victory over Team Liquid in the final round of The International 2019 was Twitch's most-watched Dota 2 event ever, according to a site that tracks viewership stats. GitHyp reports 1.1 million viewers tuned in to the championship finals on Twitch, which took place in Shanghai and began at 10 a.m. local time. But Shanghai is literally on the opposite side of the world from the US' Eastern Time zone, meaning that for most of Twitch's western viewers, the Sunday morning tournament in China started late Saturday night.  In the western hemisphere, the tournament stretched on into the wee hours of Sunday morning and beyond. That didn't seem to impact the viewership numbers, though. According to Esports Charts (which adds in viewers from other streaming platforms) the overall peak viewership for the tournament passed 1.9 million during the final round between OG and Team Liquid, and that's without factoring in Chinese streaming platforms.  According to GitHyp's figures, this year's International saw a 51 percent increase over last year's TI8, which was held in Vancouver and saw a 100,000 decrease in viewership over the previous year's finals in Seattle. That translates to more than a quarter million more viewers tuning in to this year's finals to see OG hoist the Aegis of Champions for the second time in a row.
Dota 2's The International 9 was the Game's Most Watched Event Ever with Over 1 Million Viewers on Twitch
Aug 26, 2019 - GitHyp
The International 2019 made headlines earlier this month when it became the biggest prize pool ever for an esports tournament with $34 million on the line. And with so much at stake, early Sunday morning, Dota 2 set even more records with its first-ever back-to-back champions and its highest viewer count ever on Twitch. Last year's champions, Europe's OG, absolutely dominated this year's event which went late into Saturday night and peaked with 1.1 million viewers early Sunday morning during their 3-1 Grand Final victory over Europe's team Liquid.
After last year's TI8 Grand Finals saw a 100k decline in viewers, this year's TI9 had an impressive comeback with a 51% increase in viewership on Twitch. But what was most impressive about this year's record-breaking stream for Dota 2 was the timing of the live stream on Twitch. With most of Twitch's regular viewer base still asleep in the United States when this year's main event ended at 8AM ET/ 5AM PT, TI9 crushed Dota 2's previous peak of 845k viewers that took place during more normal hours two years ago at TI7 in Seattle.
Dota 2 team becomes first to win The International twice, takes home over $15m
Aug 25, 2019 - Eurogamer
Reigning Dota 2 champions OG have just won the ninth International (TI9), taking the trophy - sorry, Aegis of Champions - home to Europe from Shanghai, China alongside a cool 15m in prize money. They also set a new record, becoming the first team - and first individual players - to win the championship twice. Earlier in the day, after technical issues made for a delayed start, PSG-LGD, part-owned by oil-rich football club Paris Saint-Germain, saw themselves knocked out in the semi-finals by runners up Team Liquid. Had they gone through, PSG-LGD would have faced OG in a rematch of last year's final. The Chinese team's status as the last remaining "home" side in Shanghai meant their earlier best-of-three match played out in front of a raucous, packed-out Mercedes Benz Arena, and despite their team being knocked out in the morning that atmosphere continued throughout. Both finalists were previous winners of the tournament, guaranteeing us a record-breaking two-time winner. Team Liquid won the tournament two years ago at TI7 in 2017, earning $10.9m, while OG came out on top last year for TI8, earning $11.2m along the way - that was despite OG's status as huge outsiders, when they lost half of their team to a rival side, EG, a few weeks before the tournament. OG's two wins in a row means the players have amassed nearly $27m (approximately 22m) between them in the last 13 months. Read more
Valve unveils new Dota 2 heroes, including a grandma with a shotgun who bakes cookies
Aug 25, 2019 - PC Gamer
Valve has revealed the next two heroes coming to Dota 2: Snapfire, a grandma goblin who rides a lizard, flings cookies and fires a giant shotgun, and Void Spirit, the fourth spirit brother. Both were unveiled at The International 2019, where OG Dota claimed the biggest esports prize ever by winning the competition for the second year in a row. Snapfire and Void Spirit will arrive in Dota 2 at some point in the fall/autumn, and Void Spirit is also coming to autobattler Dota Underlords. Snapfire is by far the more intriguing: we don't know her exact abilities but in the trailer below you can see her baking cookies and then chucking them to allies, presumably for healing or a buff. She rides a fire-breathing lizard on a saddle with a mounted machine gun, and carries a weighty shotgun to boot. Check her out in the trailer below. Void Spirit is a gruff spirit brother, and his trailer gives away less about how he might play. He carries a mean-looking double-sided energy sword and uses a teleporter in the video, below. Both will arrive in Dota 2 as part of the The Outlanders update, which doesn't yet have an exact release date.
OG Dota wins The International for the second year in a row, claims biggest esports prize ever
Aug 25, 2019 - PC Gamer
In a first of Dota 2 history, OG Dota have become the back-to-back champions of The International—and, once again, bring home the largest prize in competitive video gaming.  An intense best-of-five finals saw the European team persuasively take the series three-to-one for the championship over Euro rivals Team Liquid. Both teams already set the stage for a historic match of Dota 2, as it was the first grand finals of The International to feature solely TI finalists, and nine out of ten players had already won a TI in the past. They met an enthusiastic crowd in Shanghai, China, where TI had been held for the first time off the North American Continent.   Upon victory, OG earned a record-breaking $15,603,133 USD, now the largest first-place prize earned in an esports organization. It's about 45.5% of a whopping $34,292,599 prize pool, a purse crowd-funded by Dota 2 fans and that breaks its own event's record of the largest in esports. Team Liquid takes home their own pretty coin, too, winning $4,458,038 as the second-place squad. All nine contenders for a repeat Aegis are now the highest-earning players in esports history, with the OG players topping the list.  Perhaps most importantly to the players of OG, they'll have their names inscribed on the Aegis of Champions for the second time, a first for any team in Dota 2 history. As Dota itself dates back over 15 years and maintains a reputation as a deep and complex game, The International is likely one of the, if not the, most coveted titles in esports. It's especially so for Dota 2 players, as the game requires thousands of hours to come close to mastery — and many have been playing for nearly or over a decade, including some of OG's players. With both veterans and young legends, OG Dota is a recent team with an intriguing story and penchant for strong, entertaining performances. The organization was created in 2015 as a more formal version of the squad Monkey Business, and the team took plenty of massive tournaments, but never a TI. When their performance faltered in early 2018, three of their players were suddenly poached for a number of other teams, and they were only left with founding members Jesse "JerAx" Vainikka and Johan "N0tail" Sundstein.  As TI is an open event, OG managed to pull together a squad for last year's TI8 with a mix of veterans and relative newcomers to qualify. They brought back the young Anathan "ana" Pham, a former OG player, and brought on Sébastien "Ceb" Debs, who had been substituting as a temporary player throughout the season. Meanwhile, mid-laner Topias "Topson" Taavitsainen, at that point only a semi-pro, had won less than $17,000 total over his career.   At TI8, OG managed to create what the community and professional scenes agree to be a Cinderella story. Fans didn't know what to expect, but OG blew even the mo...
The International crowns its 2019 champions
Aug 25, 2019 - Rock, Paper, Shotgun
Dota 2 s mega esports event The International has wrapped up, with OG lifting the aegis for the second year running. The team will take home a cool $15 million ( 12.2m), as well as the honour of being the first team to win the event twice, let alone twice in a row. (more…)
Void Spirit will descend to Dota 2 this autumn
Aug 25, 2019 - Rock, Paper, Shotgun
Another new Dota 2 hero has been announced at The International, hot off the heels of Snapfire, the elderly lizard-riding goblin announced earlier this week. They should have lead with this one. Snapfire is not an easy act to follow. Still, Void Spirit will also be joining the MOBA this autumn, though he seems somewhat reluctant to do so in his introductory video, which you can see below. (more…)
Meet Snapfire, Dota 2's adorable next hero
Aug 23, 2019 - Rock, Paper, Shotgun
The next hero coming to Dota 2 is Snapfire, an elderly goblin who bakes cookies, carries a shotgun, and rides a giant lava-spewing lizard. She seems a lark, as long as you stay on her good side. Valve announced Snapfire today during their huge Dota tournament, The International, to arrive in a future update for the free-to-play MOBA. It's a mystery for now how she plays and what her abilities are, but come watch her introduction video and you might have a few guesses. (more…)
Steam China will be a curated, separate store for the Chinese market
Aug 22, 2019 - Rock, Paper, Shotgun
Steam is in an odd position in China. It s like a pirate radio station, sitting offshore and letting the gamers access all that unfiltered content. With no official servers and awkward payment methods, the experience that the huge numbers of users have isn t optimal. So Valve and local partners Perfect World are setting up a version of Steam for China, named Steam Platform. The first details of which were dropped at an event hosted by Perfect World in China this week. There s no launch date, and no look at the client or its features, but things are motoring along. (more…)
Valve talks Steam China, curation and exclusivity
Aug 21, 2019 - Eurogamer
Valve, alongside its business partner in China, Perfect World, has given us an update on the progress of Steam China today, after both companies had been silent on the topic for over a year. Eurogamer attended the brief presentation, given by Perfect World CEO Dr. Robert H. Xiao in Shanghai, where a small number of local and international press were told the companies were "one more step closer" to launching Steam China, which will be separate from the international version of Steam. A handful of launch games were revealed, including Dota 2 and Dota Underlords. There were no actual launch dates or broader windows mentioned for Steam China itself, mind, nor a look at how that storefront may shape up or any details on its features, barring the fact it'll support VR, multiplayer games, interesting games with "innovative, creative ideas," and "single-player games with abundant storylines". As far as we could tell, none of the non-Chinese launch games had official approval just yet, either. In Xiao's words, "the Steam China project is undergoing solidly and smoothly" - but what is it, exactly? As it stands, Steam is actually widely available for Chinese players already. As of right now we've tested and confirmed it's possible to buy, download and play games through the Steam store in China as usual, with no issues - and no need for a VPN. Community features, such as discussion forums, are unavailable, but otherwise the platform as it stands still acts as a huge loophole in the Chinese government's strict regulation of games. Where it might take many months of admin and applications for a game to get through the approval process - if it gets through at all - or many revisions to a game's content to ensure it meets the various Chinese standards, that same game can already be bought and played in China, unfiltered, unregistered and unchanged, on regular old Steam. Read more
Tiny Prestige Item and Custom Creeps
Aug 13, 2019 - Community Announcements
http://cdn.dota2.com/apps/dota2/images/blogfiles/tinyprestzw_rrcreeps_blog_iim.png Today's update rolls out the exclusive 'Majesty of the Colossus' prestige item set for Tiny at Battle Level 255—along with the 'Reptilian Refuge' custom Radiant and Dire creeps at level 182—to fill out the Battle Pass rewards line as we approach The International. Featuring completely new models for each of his Grow states, plus custom animations and effects for Avalanche and Tree Grab, the 'Majesty of the Colossus' can only be earned by increasing your Battle Level to 255 before the conclusion of The International 2019 Battle Pass. Players who've already grown to level 255 can claim this item set from the rewards line and roll into the lanes in splendor and style. To accommodate the release of this new item set, Tiny's item slots have also been updated and simplified to correspond to his four levels of Grow, and his materials have been optimized to allow for more robust content creation. This means he will soon become available on the workshop, and that artists will only need to focus on making items to fit four base slots and one weapon slot on any future Tiny designs. The International Group Stage The first Group Stage action of The International kicks off at 9:00 am on Thursday, August 15 in Shanghai. With seeding in the Main Event at stake right from the start, make sure to tune in to the main stream to see the first stage of the tournament unfold.
Valve will use human moderators to stop Steam Workshop scams
Aug 12, 2019 - Rock, Paper, Shotgun
According to my therapist, we all need approval. So I m glad that the latest Valve Initiative (TM) is all about that. From now on, content uploaded to the Counter-Strike: Global Offensive, Dota 2 and Team Fortress 2 Steam Workshops will require Valve s approval before being released to the public. This is to combat the free skin ads that plague the workshop. (more…)
Dota 2 Update - August 9th, 2019
Aug 9, 2019 - Product Update
* Fixed Morphling's Morph resetting charge counts for Astral Imprisonment, Stone Remnants and Windrun when switching to and from the Morphed hero
The Summer Scrub Part II
Aug 8, 2019 - Community Announcements
http://cdn.dota2.com/apps/dota2/images/blogfiles/summerscrub2019_blimjbbh.png Today's update delivers the second half of the Summer Scrub, focused on bug fixes and some quality of life improvements just in time for The International. One of the first changes you're likely to notice is the implementation of a new version of the customizable hero grid. Players can now create multiple grid presets, each with their own unique layouts and categories. You can drag and drop heroes around the grid and rename or resize different buckets to suit your needs for any situation. We've also added a new alternate layout for the in-game item shop that allows you to toggle the classic column view to a new grid-style layout that retains the Basic and Upgrade sections while adding multiple grouped sub-categories for ease of use. On the game side, we decided to do a little house cleaning related to players exploiting matchmaking, botting or transferring accounts, resulting in a fresh ban wave for cheaters today. We've also made multiple performance improvements focused on minimizing hitches during teamfights. There's also a whole host of bug fixes that you can read about over on the update page here. Thanks to everyone in the Dota community who helped us identify which things were most in need of a good scrub.
The International Approaches
Aug 7, 2019 - Community Announcements
http://cdn.dota2.com/apps/dota2/images/blogfiles/ti9_aegis_tia_blog.png The International Group Stage is almost upon us. As the teams, fans, and broadcast crews make their final preparations for the crowning esports event of the year, it's time to unveil some of the final details for everyone watching. Tournament News Head over to the in-game Compendium for a complete list of Casters and Talent for this year's event. Don't forget to fill out your predictions for hero picks, team results, player performance, and tournament meta. Predictions lock before the start of Group Stage play. We've also launched the official tournament website for The International 2019 as a hub for keeping up with the daily tournament proceedings. As the Group Stage and Main Event progress, you'll be able to see updated standings and new social media content posted each day from Shanghai. Group Stage: August 15th – August 18th, 2019 – As before, two best-of-two groups of nine teams. Top four teams in each group advance to Upper Bracket, five – eight advance to Lower Bracket, bottom in each group is eliminated. Main Event: August 20th – August 25th, 2019 – The tradition continues as 16 teams battle through a best-of-three double elimination playoff. Lower bracket first round is best-of-one, Grand Finals are best-of-five. Media The top eighteen Dota teams in the world have earned the right to join the final test of the Dota competitive season. As the tournament progresses, check out the main stage and behind-the-scenes action on our media page, which features all content from our YouTube Channel, event-specific Twitter feed, and Instagram. Pubstomps Whether you're playing or watching, Dota is best enjoyed with friends. To help people around the world connect with each other for their own celebratory Dota events, we've once again partnered with Barcraft United to facilitate Pubstomp administration. Their official landing page will launch later this week to help find a Pubstomp in your area.
Dota 2 Update - August 7th, 2019
Aug 7, 2019 - Product Update
- Added a one time popup describing Ranked Roles before queuing for Ranked. - Removed random hero selection from Ranked Roles matches - Added The International Talent section to the Compendium
Dota 2's Player Base is the Highest it's Been in 2 Years
Feb 11, 2019 - GitHyp
Once Steam's most popular game (before PUBG took over), Dota 2's player base has been on a steady decline since peaking with over a million concurrent players back in 2016. But a new user-created custom game mode and less competition from Blizzard have resulted in Steam's second most popular game making a comeback with Dota 2's player counts now the highest they've been in two years. Similar to Dota's own origin story, a custom map created by Chinese developer, Drodo Games, called "Auto Chess" has captured the attention of Dota 2's player base in a way that Valve once dreamed only Artifact could. In Auto Chess, players fight across an 8x8 field that mimics a chessboard using Dota's own heroes for game pieces. Auto Chess' gameplay has been able to create its own little niche of MOBA players who want a greater focus on strategy and less emphasis on fast-paced APM.
Dota 2's in-game counter for Auto Chess has at times shown over 200k concurrent players, which helps explain Dota 2's own 17% increase in players from January's 491k average to an average of 573k over the past 30 days. And while Auto Chess can account for most of Dota 2's new/returning players, another factor has been Blizzard's announcement that they'll be shifting focus away from Heroes of the Storm. Considered the third most popular MOBA in the world behind League of Legends and Dota 2, news of Blizzard moving developers to other projects and canceling HotS' major esports events has made Dota's community look even more appealing to HotS players looking to abandon ship. Auto Chess isn't likely to become the next Dota or PUBG creating a new genre overnight, but with its popularity increasing among players, streamers, and catching on even more in China, Valve shouldn't take any chances letting this developer get away – especially not with Artifact dropping outside of Steam's top 100 most played games.
Dota 2's The International 2018 Finale was Down Over 100k Viewers Compared to Last Year on Twitch
Aug 27, 2018 - GitHyp
Even with a better first day, bigger prize pool, and an epic storybook ending, this year's biggest Dota 2 event couldn't manage to top last year's viewers on Twitch. The International 8's grand finals brought in a peak of 730k concurrent viewers as Europe's OG took China's PSG.LGD all the way to the very last game of a best-of-five heart-pounding finale. But while OG's Cinderella story had Dota 2's analysts, commentators, and viewers all on the edge of their seats in what many consider TI's greatest grand finals, it fell short of last year's peak of 845k viewers. TI7's far less exciting finale featuring EU's Team Liquid taking home the victory over Newbee in just 3 quick games. And resulted in an impressive 44% increase in viewership compared to TI6 on Twitch which is still Dota 2's most watched stream ever.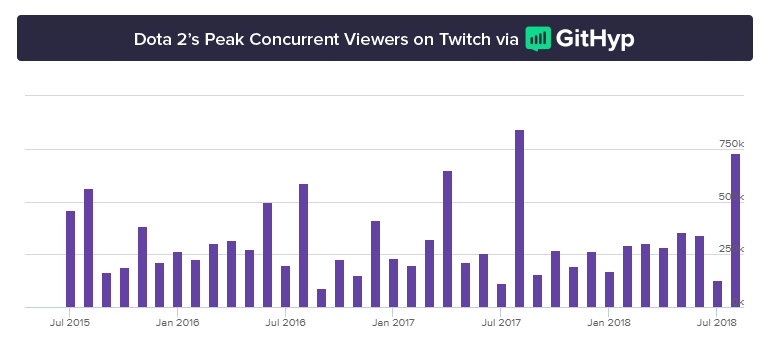 Known for having the biggest single event prize pool in all of esports, The International once again set a new peak of $25 million this year with OG taking home $11 million for first place. However, the $23.9 million contributed by players just barely topped last year's player contribution of $23.2 million. And surprisingly, it was Day 1 of TI8 that had 100k more viewers than last year's event. But with player counts down 35% since Dota 2's peak two years ago and other games like Fortnite taking over Twitch, we predicted that TI8 wouldn't be able to top TI7's finale. One thing we didn't see coming, however, was Valve's unexpected and accidental reveal of their own streaming service, Steam.tv, which contributed to the decline in viewers on Twitch. Their new site pulled away over 80k viewers from Twitch during TI8's final matches – but even with the numbers combined, TI7's viewership still fell short of last year's record-setting peak.
Dota 2's Viewer Base and Prize Pool is Bigger Than Ever at The International 2018
Aug 21, 2018 - GitHyp
With a peak of 1.3 million players back in March 2016, the decline of Dota 2's player base and the rise of PUBG on Steam has led to many claiming that Valve's popular MOBA is a "dead game." But even with the player base at half of what it once was, Dota 2 is far from dead when looking at the game's stats and popularity as a competitive esport. Last year's biggest Dota 2 event, The International 7, saw its peak viewers on Twitch increase by 44% compared to TI6's grand finals going from a peak of 588k viewers to 845k viewers.
This year, TI8 on Twitch is already off to a better start with a peak of 645k viewers on its first day. An increase of 100k viewers when compared to 2017's first day peak of 546k viewers. Dota 2's remaining player base have also proven their loyalty and demand for more in-game content by contributing $23 million towards the free-to-play game's Battle Pass system and increasing TI8's total prize pool to $25 million – the largest it's ever been and an increase of over $200k compared to last year. The International 8's grand finals are set for this Saturday, August 25th, and while it might not see another 44% increase in viewers, the event should be able to continue its growth and top last year's peak concurrent viewers on Twitch.
Dota 2 Hits New Viewer Peak with The International Up 44% Compared to Last Year on Twitch
Aug 15, 2017 - GitHyp
More Dota 2 viewers than ever tuned in over the weekend to watch The International 7 on Twitch. And with good reason. The Valve-sponsored event for their multiplayer online battle arena game had its highest prize pool ever with a shocking $24 million on the line and the champs taking home over $10 million. Getting into the Twitch numbers, Dota 2 brought in a peak of 845k viewers as Team Liquid defeated Newbee in Saturday's Grand Final. This was an impressive 44% increase in viewers compared to last year when TI6 brought in 588k viewers at its peak. [caption id="attachment_284426" align="aligncenter" width="770"]

Dota 2's Peak Viewer Counts on Twitch via GitHyp[/caption] The increase in popularity has also brought Dota 2 closer than ever to topping its biggest competition, League of Legends. Riot's MOBA hit its own all-time peak of 988k viewers back in 2015, but compared to 2016, LoL's viewership for its own World Championship event was actually down 5% last October on Twitch. TI7 also helped put Dota 2 over 1 billion total views on Twitch. An impressive number, however, LoL still more than doubles that with 2.1 billion as Twitch's most watched game. But in terms of big eSports competitions, both MOBAs still have a way to go before dethroning Counter-Strike: Global Offensive's record-setting 1.1 million peak viewers that the Valve shooter brought in earlier this year.
Steam's Most Played Games of 2016
Jan 7, 2017 - GitHyp
2016 was another great year for games, but it was also a year filled with the the rise and fall of many new games that over-promised and under-delivered. As a result, Steam's list of most played games in 2016 ended up looking almost the exact same as it did in 2015. Last year's top titles held their spots as newcomers who started off strong quickly lost their player bases by the end of the year. Looking at new releases on Steam in 2016 tracked hourly by GitHyp, the highly hyped and highly controversial, No Man's Sky, had the highest peak player count with 212k concurrent players in a single hour.
Dota 2 / 1,286,617 peak players (#1 in 2015)
Counter-Strike: Global Offensive / 845,806 peak players (#2 in 2015)
No Man's Sky / 212,321 peak players (new)
XCOM 2 / 132,834 peak players (new)
Dark Souls III / 129,922 peak players (new)
Other newcomers such as XCOM 2 (132k players) and Dark Souls III (129k players) also had great launches, but only peaked at half of NMS' record-setting number to round out the top 5. While No Man's Sky, XCOM 2, Dark Souls III, and others such as Tom Clancy's The Division and Total War: Warhammer all had strong launches, none were able to hold their ground and each had huge drops in players that made headlines. Other previous heavy-hitters also made headlines due to under-performing launches such as Call of Duty which was down 76% from last year and Watch Dogs 2 which dropped 61% since the last entry in the series. When looking at the more stable average players per hour metric, 2016 ended the same as 2015 with the exception of Fallout 4 -- which didn't just fall out of the top 5, but also the top 10 at #12.
Dota 2 / 636,607 avg. players per hour (#1 in 2015)
Counter-Strike: Global Offensive / 360,600 avg. players per hour (#2 in 2015)
Team Fortress 2 / 50,802 avg. players per hour (#4 in 2015)
Grand Theft Auto V / 40,258 avg. players per hour (#5 in 2015)
Sid Meier's Civilization V / 37,885 avg players per hour (#9 in 2015)
Dark Souls III dropped to #21 on Steam with an average of 14,186 players per hour. No Man's Sky dropped all the way down to #41 on Steam with an average of 8,393 players per hour. And XCOM 2 barely made the top 50 coming it at #44 with an average of 7,815 players per hour. When looking at the average players per hour, it was actually the free-to-play team-based shooter, Paladins, that ended as 2016's strongest new release ranking in at #15 on Steam with an average of 22,809 players per hour.