Current Video Game Statistics for the Current-Gen Gamer

Destiny 2

Save
Watch this absolute maniac solo Destiny 2's latest raid boss and then lose his mind
Mar 30, 2023 - PC Gamer
s I was reminded during the Diablo IV beta, I love to see an endgame boss intended for a large group of players getting soloed by one absolute madman. Destiny raids, which are designed for fireteams of six guardians, are no stranger to low-man completions, but there's still a special level of prestige for whichever chad among chads manages to solo the final boss first. That honor for the latest raid, Root of Nightmares, has just gone to TheSnazzzyRock, who a day ago posted the video above in which he beats Nezarec, Final God of Pain, in just under 12 minutes and three damage phases... Read more.
Destiny 2 получит новый контент, созданный при участии Лэнса Реддика
Mar 27, 2023 - Gamemag.ru
Студия Bungie сообщила, что многопользовательский шутер Destiny 2 получит новый контент, созданный при участии недавно умершего на 61 году жизни Лэнса Реддика, озвучившего коммандера Завалу.
Bungie pays tribute to Lance Reddick, sharing the actor has "performances yet to come"
Mar 26, 2023 - VG247
Following the passing of actor Lance Reddick, Bungie has shared that there are still "performances yet to come," in Destiny 2. Last week came the unfortunate news that Reddick had passed away, having appeared in a number of beloved series like The Wire, John Wick, Fringe, Guerilla Games' pair of Horizon games, and notably as Commander Zavala in the Destiny series. Live service games are obviously a living, breathing thing, meaning that there are regular updates, often with more pieces of story. In a recent blog post from Bungie, the developer shared a tribute to Reddick, and noted that there are still performances of his to come in Destiny 2. "As the voice of Commander Zavala—the stalwart commander of the Vanguard—Lance brought to life a character who has become virtually synonymous with Destiny itself," reads the post. "For nearly a decade, Guardians around the world have found purpose and comfort in Zavala's presence, bolstered by that unmistakable voice, so full of strength, serenity, and nobility… As an actor, musician, gamer, and family man, the passion Lance brought to the things he loved was reflected in the eyes and hearts of all who loved him. Read more
We haven't heard the last of Lance Reddick in Destiny 2: Bungie says there are 'performances yet to come in the game'
Mar 24, 2023 - PC Gamer
It seems that we haven't heard the last of Commander Zavala in Destiny 2: In a tribute to voice actor Lance Reddick, who died unexpectedly last week at age 60, Bungie confirmed there are still "performances yet to come in the game.".. Read more.
Destiny 2 hotfix for March 23 finally addresses one of Lightfall's biggest problems
Mar 22, 2023 - VG247
A new hotfix landing in Destiny 2 Lightfall on March 23 is going to address a major issue that's been causing players grief since the start of the latest expansion's launch: finally, Cabal Thresher damage output is going to be nerfed. Why is this important? First, a history lesson. With the launch of Lightfall, the Cabal airships got a massive upgrade. Ever since we first stepped foot on Neomuna and started experimenting with Strand powers, the pesky airships began firing missiles that can obliterate you in a single shot. Often from across the map. There's little recourse when a Thresher cannon pops a blast at you, either; it will track around corners, and even through doors on occaision. Given that they spawn, frequently, on new Patrol location Neomuna, they've been the bane of many a Guardian for weeks now. It's even more egregious in the Nightfalls or Battlegrounds missions that have been given a makeover lately. As well as being harder in general (a change I am here for, for what it's worth), Guardians are also having to contend with Threshers that are outputting damage at way above the intended rate. Getting one-shot by a cannon to the face when you're trying to accrue 200k Lightfall score on Legend is the antithesis of fun, Bungie. Read more
Good news, edgelords! Destiny just dropped an (almost) all-black shader for everyone
Mar 21, 2023 - PC Gamer
Why doesn't Bungie just make an all-black shader? It's a question that has puzzled and infuriated Destiny players since pretty much the game's inception. It was almost two years after the original game's launch before the studio finally added the Super Black shader, and despite the name even that still had some shades of grey in it... Read more.
This Week At Bungie - 03/16/2023
Mar 21, 2023 - Community Announcements
This week at Bungie, we have been raiding nonstop! Did you participate in the World First Race? Have you finished with your clanmates already? How about those new raid armor sets? Were you lucky enough to already get your hands on the new raid Exotic? We hope the psychedelic panoramas created by the clash of Light and Dark were a pleasant surprise. Want to read the rest of the TWAB? Go here.
This fan tribute to Lance Reddick as Destiny's Commander Zavala is going to make me well up
Mar 20, 2023 - PC Gamer
I've spent more thousands of hours playing the Destiny games than I care to admit, so the loss of Lance Reddick last week, at the far too young age of 60, hit particularly hard. As the voice of Commander Zavala since day one, Reddick has stoically accompanied us on missions across the solar system, providing fatherly encouragement as we batted away one paracausal threat to humanity after another... Read more.
"Спасибо тебе за всё": Bungie, Guerrilla и Remedy почтили память Лэнса Реддика
Mar 18, 2023 - Gamemag.ru
Студии Bungie, Guerrilla Games и Remedy Entertainment опубликовали заявления в память о Лэнсе Реддике, скончавшемся вчера в возрасте 60 лет.
Destiny and John Wick actor Lance Reddick has passed away, Destiny 2 players gather in-game to pay tribute
Mar 18, 2023 - VG247
Prolific actor Lance Reddick passed away on Friday, March 17, from natural causes at the age of 60. His passing was confirmed to Yahoo News by Mia Hansen, his representative at Portrait PR, who stated he would be "greatly missed." Best known for his role in the John Wick films as Charon, the concierge at The Continental, Reddick starred in many motion pictures and television series. Movies include Angel has Fallen, Godzilla vs King Kong, I Dreamed of Africa, White House Down, and many others. Roles on television include Lost, Oz, The Wire, as Albert Wesker in the short-lived Resident Evil series on Netflix, and more. He also lent his voice to various series in the animation genre. Read more
Destiny players are gathering in the Tower to pay last respects to Lance Reddick
Mar 17, 2023 - PC Gamer
ctor Lance Reddick had an impressive career in film and television, but to gamers he's likely best known as Commander Zavala, the Titan Vanguard in the Destiny games. It was a role he embraced, and not just within the development studio: He was known for his appreciation of both the game (he played himself) and its fans, and made an awful lot of them very happy in 2021 when they asked him to read Destiny 2 memes in Zavala's voice—and he said "yes.".. Read more.
Destiny, John Wick actor Lance Reddick dies at age 60
Mar 17, 2023 - PC Gamer
TMZ reports that Lance Reddick, who starred in numerous films and television series and provided the voice of Titan Vanguard Commander Zavala in Destiny 2, has died at the age of 60... Read more.
Destiny 2: Lightfall review
Mar 17, 2023 - PC Gamer
n expansion launch is a significant moment for Destiny 2, and not just because of the new campaign, destination and raid each one brings. Expansions are also a statement of intent—making dramatic, sweeping sandbox changes that alter the very feel of the game at large. Last year, with The Witch Queen, Bungie began the process of reworking the game's original subclasses, and the results were potent to say the least. Armed with a new, more flexible suite of tools, Guardians created some of the most powerful builds in the game's history... Read more.
Destiny 2 Avalon secrets and how to find them
Mar 15, 2023 - PC Gamer
The Destiny 2 Avalon secrets are little puzzles hidden throughout the new Vexcalibur exotic mission that reward you with enhancement prisms, upgrade modules, red border weapons, and even give you a small dose of lore about Asher Mir and what he's up to these days. Unlocking these secrets also rewards you with unique triumphs in the Season of Defiance node... Read more.
How to get Conditional Finality in Destiny 2
Mar 14, 2023 - PC Gamer
The Destiny 2 Conditional Finality shotgun is the newest exotic to arrive in the game as part of the Root of Nightmares' raid. Just like Collective Obligation or Touch of Malice before it, this is one of the most powerful weapons the raid has to offer, and is a pretty rare drop. Still, there are ways to increase your chance of getting it... Read more.
Destiny 2 error codes and what they mean
Mar 10, 2023 - PC Gamer
Destiny 2 error codes are a familiar sight for those who play the game any length of time and, in the run up to Lightfall's release, they've definitely gotten more prevalent. Whether it's shutting off the API and access to associated apps, or more frequent downtimes to cope with server instability and disconnects, Destiny 2 is buggier than it's been for quite a while... Read more.
THIS WEEK AT BUNGIE – 3/9/2023
Mar 9, 2023 - Community Announcements
This week at Bungie, it's almost raid day! Happy TWABsday, Guardians! This week at Bungie we have World First race info to cover, a preview of Season of the Deep rewards, an update on Iron Banner and Trials of Osiris, and a few other highlights. We're only nine days into the Season and already seeing really wild builds, some of the funniest Strand clips, a whole bunch of Commendations being handed out, and Guardians ranking up. And keep sharing your screenshots and videos on socials! We'll be looking for them. Read the rest on our blog here
Destiny 2: How to get Vexcalibur and beat the Avalon mission
Mar 8, 2023 - PC Gamer
The Destiny 2 Vexcalibur weapon is a new exotic glaive that you can get through a secret mission, and like Revision Zero from last season's Seraph's Shield, it's one you'll be playing a lot if you want to earn all the upgrades and catalysts. Vexcalibur continues Bungie's new trend of craftable exotics, but honestly, it's likely to be one of the best glaives in the game, giving you an overshield when you guard, and dealing increased melee damage when you have said overshield... Read more.
Destiny 2 players are repeatedly killing themselves in a 4-year-old raid for clout
Mar 6, 2023 - PC Gamer
It's a tale as old as time: Bungie releases a new system designed to be a long term commitment in Destiny 2, and players find a way to exploit the rules of the game to 'complete' it instantly. It's happened before, and now it's happened again... Read more.
All Destiny 2 action figure locations in Neomuna
Mar 6, 2023 - PC Gamer
The Destiny 2 action figures are just one of the many secrets hidden throughout Neomuna's neon-soaked streets and skywalks, but they do grant you the special They're Not Dolls triumph if you collect them all. Like the Calus bobbleheads onboard the leviathan, these collectibles are weekly, and each reset adds some more to find and bring back to place at Strider's Gate. What's the reward for placing them all: who knows?.. Read more.
Destiny 2 Had a Peak of Over 200k Concurrent Players During its First Day on Steam
Oct 2, 2019 - GitHyp
With Bungie and Activision officially parting ways, yesterday marked Destiny 2's first day on Steam after leaving the Blizzard launcher. Now free-to-play on Steam with a brand new $34.99 "Shadowkeep" expansion, Destiny 2 peaked with 219k concurrent players on Tuesday. That number might have been even higher if not for technical issues that prevented many users from logging in and Bungie taking the game down for "emergency maintenance."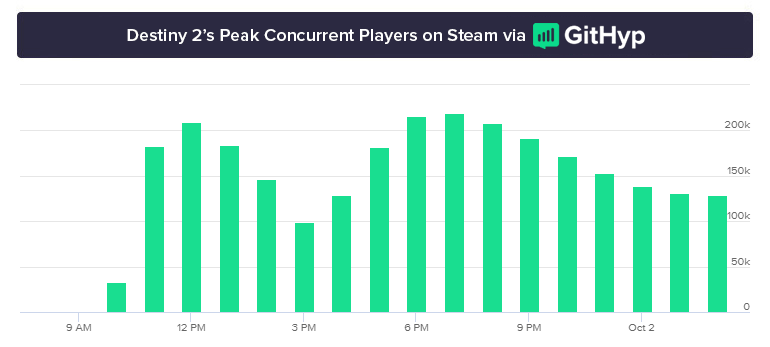 However, with Mostly Positive reviews right now on Steam, it doesn't seem like said issues being fixed tomorrow will have a drastic impact on the player counts. Destiny 2's player count hitting 200k was enough to help the game rank in as the #3 most played game on Steam for a couple hours yesterday. But D2's numbers were far behind yesterday's peaks for Steam's top 3 games: Dota 2 (606k players), CS:GO (605k players), and PUBG (566k players). Destiny's biggest competition over the years has been the growing popularity of Warframe -- a similar free-to-play loot shooter -- which is still in Steam's top 10 averaging around 50k concurrent players and peaking at 132k players back in November 2018. Yesterday also marked the first time we've ever been able to see Destiny's actual player counts. So, it'll be interesting to see if Destiny 2 is able to grow any more to compete with PUBG or if its player base will decline closer to Warframe's numbers.