Current Video Game Statistics for the Current-Gen Gamer

Destiny 2

Save
Bungie enables matchmaking help for those who get repeatedly thrashed 5-0 in Destiny 2's Trials of Osiris
Sep 17, 2021 - Eurogamer
Got smashed in Destiny 2's Trials of Osiris last weekend? Developer Bungie is making some changes to the 3v3 high-stakes PvP mode for this weekend that should help. In a post on Bungie.net, the developer said it's making two key changes to matchmaking based on how things went on the successful reintroduction of Trials last weekend. The first of these relates to the matchmaking for players after seven wins. Read more
Destiny 2 is retuning Trials of Osiris matchmaking to make loss streaks less frequent
Sep 17, 2021 - PC Gamer
Last weekend Trials of Osiris returned to Destiny 2 in a newly revamped form. But while resident Guardians Phil and Tim have been having fun (with caveats), it seems like there are all too many people getting absolutely curbstomped in the game's hardcore 3v3 arenas... Read more.
This Week At Bungie – 9/16/2021
Sep 16, 2021 - Community Announcements
This week at Bungie, we sent you out on a new quest. It's a new week and we kicked off a brand-new quest. Ager's Scepter is a weapon worthy of a king, errr a prince. Either way it's yours for the taking. Sorry Crow, no hard feelings since you did... you know. This new Exotic Stasis Trace Rifle is sure to chill your enemies out. I was going to start listing off Mr. Freeze quotes, but I'll spare you this time. If you have purchased Season of the Lost, you can start this quest by speaking with the Queen, Mara Sov. If you've already obtained the weapon, nice job! You can start hunting for the catalyst after the reset on September 21. That is not all that is going on this week. We've heard some chatter around some new discoveries in the Shattered Realm. We don't like spoiling secrets though, so you'll need to go investigate. Or just go check YouTube, we aren't the boss of you. We also released a new calendar this week to showcase some of the beats coming later in Season of the Lost as we lead up to The Witch Queen early next year. Check out the full TWAB on Bungie.net.
Former Bungie composer Marty O'Donnell found in contempt of court over use of Destiny assets
Sep 16, 2021 - Eurogamer
Composer Marty O'Donnell has been found in contempt of court over his use of Destiny assets and now owes Bungie tens of thousands of dollars in legal fees, Eurogamer can reveal. In April this year, Bungie served the celebrated composer behind the original Halo music with contempt of court papers over videos related to Destiny that were uploaded to O'Donnell's YouTube channel and other platforms. Some of these videos were early musical sketches of what became Music of the Spheres, the much-loved musical foundation for 2014's Destiny. Read more
Destiny 2: How to get Ager's Scepter exotic Stasis trace rifle
Sep 15, 2021 - PC Gamer
Ager's Scepter has finally dropped in Destiny 2, so let's take a look at how to get your hands on the latest exotic weapon. Over the last few weeks, you'll have been completing the three parts of Tracing the Stars , a repeating quest gifted to you by Queen Mara. You can finally put those Atlas Skews to good use this week and pick up the final part of the Destiny 2 A Hollow Coronation exotic quest... Read more.
Destiny 2's revamped Trials of Osiris is a glorious lootsplosion (but expect a brutal ass kicking if you solo queue)
Sep 13, 2021 - PC Gamer
It's fair to say that Trials of Osiris—Destiny's hardcore, weekends-only, 3v3 elimination mode—was on its deathbed. And that bed was filling with blood fast. Having previously been hugely popular in Destiny 1, the Trials playerbase dwindled over time until only the sweatiest PvP lords bothered to participate. In Destiny 2 it was restructured and relaunched as Trials of the Nine, which was largely unloved, only to be mothballed and eventually brought back, rebadged once as Trials of Osiris, with Bungie promising the mode was now "fully baked"... Read more.
Destiny 2's revamped Trials Of Osiris is great, and hugely popular
Sep 13, 2021 - Rock, Paper, Shotgun
When Bungie announced last year that they were reviving Destiny 2's serious PvP weekend event mode, Trials, they said "It's important that this doesn't go out half-baked." Reader dear, it went out half-baked. But! Seventeen months and one revamp later, Trials Of Osiris is good now. Really good. With generous new reward systems, the option to queue solo, and a few anti-cheater measures, the return of Trials this weekend has seen a huge surge in player numbers and been, like, actually fun. Read more
Destiny 2 disables exotic fusion rifle Telesto again
Sep 12, 2021 - Eurogamer
Destiny 2's exotic fusion rifle, Telesto, has once again been disabled in PvP activities Crucible and Gambit. This time it's the Thermoclasic Blooming Artifact mod from the Wayfinder's Compass that's to blame. Because it creates an Orb of Power when defeating an enemy via a solar or stasis melee attack, the Telesto's projectiles essentially generate infinite orbs - which is deadly in competitive play, of course. Here's the bug in all its glory, courtesy of Skarrow9 on YouTube: Read more
This Week at Bungie - 9/09/2021
Sep 9, 2021 - Community Announcements
This week at Bungie, we revamp Trials of Osiris. Seven years of Destiny. Seven years of Space Magic. Seven years of friendships we've made along the way. It's still hard to comprehend how much time has passed and how much has happened since we took our first steps as Guardians. Want to take a trip down memory lane? We've whipped up a short and sweet article to talk about early inspirations for the Destiny universe, and a fun story from the Destiny 1 reveal. Destiny 7th Anniversary Thank you. No, really. Without you, none of this would have been possible. We've come so far, and we have so far yet to go. We've just set off on a fresh journey to discover more about Savathûn, the Awoken, and more. Who knows what the future holds? Well, if you've watched our reveal of The Witch Queen... you know a little. Hit the jump for a refresher on our upcoming Trials of Osiris revamp!
Destiny 2: Ruins of Wrath Enigmatic and Trivial Mysteries
Sep 9, 2021 - PC Gamer
There are more Enigmatic and Trivial Mysteries to find in Destiny 2 this week with the Ruins of Wrath now available in the Shattered Realm. This week, you'll get the Safe Passage perk from the Wayfinder's Voyage mission, so go ahead and do that first. After that, align all the Awoken Beacons in the Shattered Realm as normal and then it's time to get hunting for mysteries... Read more.
Destiny 2: Where to find all the Week 3 Atlas Skews
Sep 8, 2021 - PC Gamer
Tracing the Stars: Week 3 is now live in Destiny 2 and there's a bunch of new Atlas Skews to find. As always, head to the H.E.L.M. and speak with Mara Sov to get started. This week's Atlas Skews can be found in Rheasilvia and the Harbinger areas of the Dreaming City, so land at the Divalian Mists and make your way over... Read more.
Destiny 2 now has crossplay voice chat
Sep 3, 2021 - PC Gamer
week after Destiny 2 received crossplay, you can now voice chat with friends on all supported platforms. Yup, including Stadia... Read more.
Everything we know about Destiny 2: The Witch Queen
Sep 3, 2021 - PC Gamer
The Witch Queen expansion for Destiny 2 will finally take us to Savathȗn's throne world after years of hype. In addition to her formal introduction in the Season of the Lost, we've had a good look at what's to come in the next expansion and beyond as we reach the peak of Destiny 2's story. More details are likely to come over the next few months but for now, let's take a look at everything we know about The Witch Queen... Read more.
This Week At Bungie – 9/02/2021
Sep 2, 2021 - Community Announcements
This week at Bungie, we travel through the Ley Lines.  Another week, another TWAB. The last four have been mega Godzilla sized TWABs leading up to Season of the Lost and the big Destiny 2 Showcase we had last week. Expect the next few to be a little lighter since the new Season is live and the game is doing all the talking. Week two of Season of the Lost is now underway. Spoiler alert! There is a new boss awaiting you in the Astral Alignment activity and a new area to visit in the Shattered Realm. The queen of lies herself, Savathûn, is encased in her crystal sleeping bag but still whispering in your ear when you visit. She made her case at the start of the Season. Was it convincing? Did you buy it? Maybe just a little? Check out the full TWAB on Bungie.net.
Destiny 2: Where to find Atlas Skews and the Fractethyst Stasis Shotgun
Sep 2, 2021 - PC Gamer
The next Tracing the Stars activity is now available in Destiny 2 and this week, you're looking for Atlas Skews. If you missed last week's challenge to find the Vulpecula hand cannon, you can check our guide here . You can pick this quest up from the H.E.L.M. and then it's off to The Strand to search for five Atlas Skews. The descriptions are deliberately vague, so here's where you need to look to find them all... Read more.
Destiny 2's hot new fashion is a trypophobia horrorshow
Sep 1, 2021 - Rock, Paper, Shotgun
If you feel squicked out looking at a lotus pod or dread seeing a boat covered in barnacles, then congrats, you're experiencing the maybe-real sensation of trypophobia. It's one of the phobias coined on the Internet, a fear or unease seeing dense clusters of holes. Perhaps you encountered this with ye olde Photoshopped image of a breast with lotus pod holes. Now I'm excited for more people to discover the horror through the new Iron Banner armour sets added to Destiny 2 this week. Read more
Destiny 2: Where to find the Week 2 Enigmatic and Trivial Mysteries
Sep 1, 2021 - PC Gamer
There are new Enigmatic and Trivial Mysteries available to find in the Shattered Realm this week in Destiny 2, which will progress the latest Ley Line secrets challenge. There are two Enigmatic Mysteries to find this time around, so make sure you unlock the True Sight upgrade from the Wayfinder's Compass before you begin. You can do this by completing the Wayfinder's Voyage mission from the H.E.L.M... Read more.
Destiny 2 developers on the challenge of bringing back Gjallarhorn, seasonal artifact mods, and more vault space
Sep 1, 2021 - PC Gamer
It speaks to the overall rude health of Destiny 2 that I didn't go into my interview with game director Joe Blackburn and general manager Justin Truman with the usual list of community pain points to reel off. Destiny 2's traumatic evolution from wannabe mainstream shooter at launch to something approaching a fully-fledged MMO, complete with riveting seasonal storytelling, has been an incredible thing to both witness and participate in as a player... Read more.
Destiny 2 director on building your own guns in The Witch Queen: 'We're okay with you being able to craft whatever version you want'
Sep 1, 2021 - PC Gamer
This time last week, Bungie set out its stall not just for Destiny 2's near future, but several years beyond that. As a service game with a voracious fanbase, Destiny 2 will likely never be able to keep its players truly sated, but the current mix of seasonal content and larger annual expansions is a very different proposition from the interminable droughts between releases that blighted the original game. These days, the week-to-week storytelling is actually one of the strong points ... Read more.
Destiny 2: How to complete the Astral Alignment activity
Aug 31, 2021 - PC Gamer
Astral Alignment is the latest activity in Destiny 2: Season of the Lost but it's had a bit of a troubled launch. Players—including yours truly—were often matched with players halfway through the activity in areas that were broken. Progress bars weren't filling and some larger enemies stayed immune, causing quite a lot of frustration. Fortunately, bugs within the activity are being ironed out and Astral Alignment is back to being playable... Read more.
Destiny 2 Had a Peak of Over 200k Concurrent Players During its First Day on Steam
Oct 2, 2019 - GitHyp
With Bungie and Activision officially parting ways, yesterday marked Destiny 2's first day on Steam after leaving the Blizzard launcher. Now free-to-play on Steam with a brand new $34.99 "Shadowkeep" expansion, Destiny 2 peaked with 219k concurrent players on Tuesday. That number might have been even higher if not for technical issues that prevented many users from logging in and Bungie taking the game down for "emergency maintenance."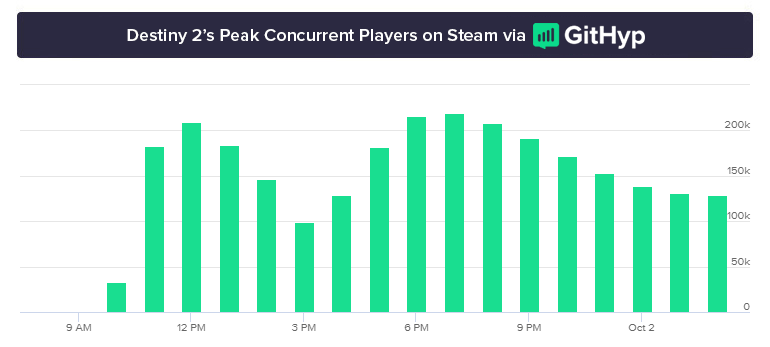 However, with Mostly Positive reviews right now on Steam, it doesn't seem like said issues being fixed tomorrow will have a drastic impact on the player counts. Destiny 2's player count hitting 200k was enough to help the game rank in as the #3 most played game on Steam for a couple hours yesterday. But D2's numbers were far behind yesterday's peaks for Steam's top 3 games: Dota 2 (606k players), CS:GO (605k players), and PUBG (566k players). Destiny's biggest competition over the years has been the growing popularity of Warframe -- a similar free-to-play loot shooter -- which is still in Steam's top 10 averaging around 50k concurrent players and peaking at 132k players back in November 2018. Yesterday also marked the first time we've ever been able to see Destiny's actual player counts. So, it'll be interesting to see if Destiny 2 is able to grow any more to compete with PUBG or if its player base will decline closer to Warframe's numbers.