Current Video Game Statistics for the Current-Gen Gamer

Borderlands 2

Save
Video game corporate satire is really overdue an upgrade
Aug 15, 2019 - Eurogamer
In Grand Theft Auto 5's final scene, protagonists Michael, Franklin and Trevor have odious billionaire Devin Weston trussed up like a turkey in the boot of a swanky car. It's time for some payback - Weston, a marauding tycoon of the Gordon Gekko school, has double-crossed Michael and attempted to hire Franklin to kill him. But first, a little speech from Michael on the subject of the "great evils that bedevil American capitalism". One of these evils, he says, is offshoring - the act of moving part of your business overseas to lower costs by, for example, paying less tax in the country where you're based. Offshoring is legal in many countries, but is widely regarded as a dirty trick, denying the society that supports you an appropriate share of your earnings - and in a moment of blunt poetic justice, Michael, Franklin and Trevor proceed to "offshore" Weston by rolling the car over a cliff into the Pacific Ocean. It's typical of Rockstar's brand of social satire, clownish and macabre and, in this case, spiced with hypocrisy. Six years after the game's release, the company's UK businesses stand accused by TaxWatch of moving billions of dollars in profits overseas in order to avoid paying corporation tax, all the while claiming back 47.3 million via a tax relief scheme for creators of "culturally British" art, and doling out large bonuses to UK-based executives. It's difficult to assess that accusation without knowledge of how development of GTA5 was distributed across Rockstar's various studios, but well, I'm not sure Michael would be very forgiving. Videogame "satires" of giant corporations have never rung that true for me, largely because some of the most prominent examples are developed by giant corporations. GTA aside, the field is led by Portal 2, a historical and architectural cross-section of a dysfunctional science company created by Valve, the owner of the world's largest PC game distribution platform. I don't think it's impossible to critique the upper echelons of the private sector while working for one of the Powers That Be - if I did, I wouldn't be writing this for a website owned by a million-dollar events business. But it's harder to laugh along to jokes about, say, brutal working practices or womanising CEOs when they come from those at the summit of an industry that worships crunch and has a lingering sexism problem. Read more
Replay Borderlands 2 with this big overhaul mod
Aug 12, 2019 - PC Gamer
With Borderlands 3 fast approaching, its predecessor is enjoying a resurgence. Recent discounts and free DLC has seen returning and new players hitting Pandora, and if you're playing through the whole thing, you might want to take a look at Borderlands 2.5.  Released last week, it's a work-in-progress overhaul mod for Borderlands 2, changing characters, gear, enemies and more. The mod team's intent is to let players discover changes for themselves, keeping new weapons and reworked boss fights a surprise, though you can see some of them linked in the Nexus Mods page.  Borderlands 2's art style has been a bulwark against ageing, and with looter shooters now being everywhere, it feels pretty contemporary. If you've already defeated Handsome Jack and shot your way through the DLC, however, you might be in the mood for a change. It still looks the same, but under the hood it seems like there's a lot that's new.  You'll need some DLC if you want to try it out and it's designed to be played standalone. Check out the requirements and installation instructions here. 
Borderlands 2 sales have jumped another 2 million since May
Aug 6, 2019 - PC Gamer
In Take-Two's latest earnings call, the publisher told investors that it had beaten expectations and was rolling in dough like a feral hog in mud, despite the absence of big game launches so far this year.  GTA 5 continues to be a big earner, with GTA Online seeing a significant spike thanks to the casino update—that means more microtransaction cash for Take-Two. But it's not the only older game that continues to sell well. Borderlands 2, which launched seven years ago, a whole year before GTA 5, has also sprung back to life.  To bridge the gap between Borderlands 2 and 3, Gearbox released the Commander Lilith DLC for free. Rather than being a throwaway piece of exposition, it's a solid adventure with some new villains, monsters and the return of the still uncomfortably ripped Vaughn. And it didn't just bring back old players—sales of Borderlands 2 are up 2 million since May 2019. That's a big jump for a game that came out in 2012, even with the recent big discount. It's been pretty cheap for years. The Borderlands GOTY Edition also gave it a shot in the arm in April. This has resulted in Take-Two selling more than 6 million copies of Borderlands games, and more 4 million players have downloaded the Commander Lilith DLC.  Last month, Take-Two studio Rockstar North was accused of receiving millions in UK tax relief while not paying UK corporation tax for nearly a decade, despite the huge profits Take-Two enjoys. Most of the profits generated by games like GTA 5, much of it designed by a British studio, are reported by the US side, while Take-Two's UK studios claim comparatively little, making them eligible for tax breaks.  Cheers, GamesIndustry.biz
Borderlands 2 dev explains why there's mysterious boxes hidden under every level
Aug 4, 2019 - PC Gamer
The latest video in YouTuber Shesez's excellent Boundary Break series—which takes the viewer outside the boundaries in popular games—is all about Borderlands 2, and  it reveals plenty of secrets about the way the world is designed. My favorite revelation is that the flashy intros for major characters and bosses actually happen directly inside the game world, rather than being made separately. Those intro have splash backgrounds: if you zoom out, you'll find that those backgrounds just appear as textures in the world for the intro, linger behind the character, and then vanish when the intro is over. Skip to 9:30 in the video to see what I mean. Shesez also finds weird, empty rectangles hidden far below each level, each one segmented into smaller boxes (see 7:00). What's their purpose? Gearbox senior programmer Kyle Pittman jumped on the line to explain: they're called global loaders, and they're used to transition players and their vehicles between levels. "If you travel from one map to another, and then also if you die and respawn...we take your player character and move them down to these regions. Basically this is just a way that we can get the player character out of the game world and into a safe space," he says. It started as a solution to bugs in the first Borderlands, which Pittman also worked on. Sometimes, when players were moving between levels their vehicle would fall through the world—having an area for players to go first fixed the issue. Shesez also finds a random model of Claptrap in a T-pose hidden underneath a mountain near the start of the game. Pittman explains that the model would've been used to scale the level around it, but that the level was redesigned to add a new hill, effectively burying poor Claptrap. The designer just never went back and deleted it, he said.  The video also reveals rainbow-colored boxes dotted around, which are used to replace assets that were removed from the world, presumably so the team could keep track of them. We also see cubes underneath the platform where the player meets Angel: these cubes are basically hidden stands for shock field generators that pop up during the Angel boss fight. There are lots more secrets revealed in the video, which is worth a watch in full. And if you're curious, the entire Boundary Break series is here, all 147 videos of it. Thanks, Kotaku.
Gold Keys, Legendary Weapons and More Available via the Vault Insider Program!
Jul 2, 2019 - Community Announcements
Become a VIP in the Borderlands Vault Insider Program! As a VIP, you can score some sweet rewards for Borderlands 2 and Borderlands: The Pre-Sequel. Obtain Gold Keys to earn rare loot, or even unlock some of the most elusive Legendary weapons, including the Dahl Torrent, Maliwan Norfleet, or Vladof Mongol! And that's just a taste of all the awesome loot available to VIPs! https://steamcdn-a.akamaihd.net/steamcommunity/public/images/clans/4067475/bf697214c073ba506d581da74e5897545ee7184d.jpg WHAT IS THE VAULT INSIDER PROGRAM? Simply put, the Vault Insider Program, built in partnership by Gearbox and 2K, is a way for us to celebrate Borderlands fans like you. As a Vault Insider you'll earn points and rewards for doing a lot of the fun stuff that you'd probably be doing anyway, like watching videos, reading articles, checking social media for the latest Borderlands updates, and of course, signing up for the program in the first place. Points can then be redeemed to claim rewards such as Gold Keys, wallpapers, and more in-game and out-of-game rewards! I WANT IN! HOW DO I JOIN? Before you can become a Vault Insider, you need a SHiFT account. If you don't already have one, you'll have an opportunity to create one during the VIP sign-up process. Note that you must be at least 18 years of age to join. Be sure to review the Vault Insider Program Terms so you know all the important details. Join at VIP.Borderlands.com HANG ON, WHY DO I NEED A SHIFT ACCOUNT? SHiFT is the platform that powers all in-game promotions and rewards in Gearbox games. Without SHiFT there'd be no way for you to receive all of the awesome in-game rewards that are coming your way. OK I SIGNED UP. NOW WHAT DO I DO? Be a Borderlands fan! You're probably doing some of this stuff already, but in case you're not, be sure to follow us on social media, make sure you've signed up for promotional updates, and check out articles and videos at borderlands.com. You can start earning points right away by referring friends and creating a 2K account to stay up-to-date on 2K's other games. Check the hit list on your profile for up-to-date info on which activities are available for you right now. Additional ways to earn points will be rolling out over time, including some that won't appear on your hit list because they're super-secret and designed to reward super-fans with super-rewards. REMIND ME, WHAT DO I GET? Rewards available right now include wallpapers and Gold Keys that are redeemable in current Borderlands games. With the legacy Gold Keys, there's no need to wait – you can jump right back in to revisit your favorite Borderlands games!
Borderlands 2 VR is PC bound according to ESRB rating
Jun 27, 2019 - PC Gamer
It looks like Borderlands 2 VR is coming to PC, after almost a year of PlayStation exclusivity. Evidence comes via an ESRB rating for the Windows PC edition of the game. There's no indication of release date, but these classifications are usually filed within a month or so of release. Borderlands 2 VR contains the full original game, but on PS4 at least, its entirely single-player. That does detract somewhat from the game's central appeal, but the opportunity to virtually inhabit Pandora is pretty cool. As is watching piles of guns explode from toilet cisterns. 
Great moments in PC gaming: Hating Handsome Jack in Borderlands 2
Jun 22, 2019 - PC Gamer
Great moments in PC gaming are bite-sized celebrations of some of our favorite gaming memories.   Plenty of videogame villains bother you by rambling over the radio or whatever its fantasy equivalent is. The Guardian in Ultima 7, Sander Cohen in Bioshock, Frank Fontaine in Bioshock, actually just everyone in Bioshock.  Handsome Jack is different. He doesn't pontificate like he's delivering a sermon, he doesn't rant like he's going to be played by Jeremy Irons in the movie. When he shows up on your echonet device in Borderlands 2, he's casual. He's eating, for god's sake. He delivers villain monologues like someone making it up as he goes along, and he does it while audibly chewing.  The monster. Handsome Jack doesn't act like a villain, but then he doesn't think he is one. He thinks he's the hero. You and your friends are bandits, and he's the one who is going to open the Vault and fix Pandora. (By killing everyone. But not in an evil way.) Your relationship with him seems low stakes at first. It's annoying that he mocks you and tricks you, but it's so casual and he's so charming and funny about it that it's hard to stay mad—even if you found the audio logs that reveal what he did to Helena Pierce from the first game. Halfway through Borderlands 2, that changes. You strike a significant blow against Jack, and he does the same to you. People die. Now it's personal. His rants stop being funny. Instead of making jokes, he just tells you he's going to kill you, and he's not chewing pretzels or whatever while he does it. The shift is surprising, and in that moment you realize that he hates you and you hate him too. It's an emotional resonance few other games manage, effective because it's so surprising. Handsome Jack is not just a bag of hit points between you and your goal, he's an actual personality (an oversized and obnoxious one), and you feel like you have a real relationship with him. Which makes it even better when you finally take him down.
Borderlands 2 gets one last round of looty shooty DLC, free until July 8th
Jun 14, 2019 - Rock, Paper, Shotgun
Borderlands 3 is on the way, and developers Gearbox really want everyone to know, so they've launched one final piece of epilogue story DLC for enduringly popular looter-shooter Borderlands 2. Commander Lilith And The Fight For Sanctuary is free until July 8th brings the cast back together (including folks from Tales From The Borderlands) for one last fight. They've also slashed the price on Borderlands: The Handsome Collection (Containing Borderlands 2, Borderlands: The Pre-Sequel and all their DLC) to under a fiver. Below, a trailer for the new stuff, featuring a gun that shoots exploding unicorns. (more…)
Borderlands 2's leaked DLC that links to Borderlands 3 can now be downloaded for free
Jun 9, 2019 - Eurogamer
Here it is: courtesy of the Microsoft E3 conference, we now have some official details on the leaked Borderlands 2 DLC - including confirmation the DLC does indeed bridge the gap between Borderlands 2 and 3. Commander Lilith & The Fight For Sanctuary is available for download right now on Xbox One, PlayStation 4 and Steam. As was hinted in the Steam page leak, the DLC is going to be free (sort of) for owners of Borderlands 2 and Borderlands: The Handsome Collection. The catch is you'll only have until 9th July (7:59am BST) to snag this, as from then on it will cost 11.99 to purchase. While there's nothing new in terms of story description and the level cap raise that wasn't already leaked, the press release does confirm the DLC "sets the stage for Borderlands 3's release". The new trailer adds some colour, at least - and shows off the DLC's villain along with some familiar faces. Read more
Commander Lilith the Fight for Sanctuary is a new Borderlands 2 DLC and you can get it free
Jun 9, 2019 - PC Gamer
A new Borderlands 2 DLC was announced during today's Xbox conference at E3. Yes, you read that right, the 2012 looter-shooter whose sequel is only months away just got an expansion. It's called Commander Lilith & the Fight for Sanctuary and if you download it by July 9 it'll be free. Among its additions are: A new loot tier called effervescent; more named guns including talking ones; plant monsters and mutated "infected" versions of existing enemies; a new raid boss; new locations and altered versions of old ones; more skins for characters and vehicles; level cap boosted to 80 and two more Overpowered levels; the option to start a new character at level 30; and a storyline in which the New Pandora Army invade Sanctuary and infect Pandora with gas that turns people into plants. It's a bridge between the story of Borderlands 2 and Borderlands 3, and also has a couple of references to the events of Tales from the Borderlands. The DLC can be started by fast-traveling to the the Fight for Sanctuary location, though you should be at least level 30 and have finished the main storyline first. Read our complete impressions over here. Commander Lilith & the Fight for Sanctuary will be free until July 9, and $US15 after that.
We've played the new Borderlands 2 DLC
Jun 9, 2019 - PC Gamer
Five years after the last add-on for Borderlands 2, it's nice to be playing a new one. The announcement of Borderlands 3 already gave me the motivation I needed to replay one of my favorite shooters (and about a million other people had the same idea, according to Steam's numbers), but it's a sweet bonus to actually have new stuff to explore while I continue spending 2019 ignoring more recent games in favor of one that came out in 2012. Something that's always been a bit annoying about Borderlands 2 is that when you want to play a different class you have to start over from level one, and it takes till level five to unlock their action skill and find out if you actually enjoy their shtick. The Commander Lilith & the Fight for Sanctuary DLC released today lets you make a new vault hunter who is boosted to 30 so you can jump right into it, which means never having to play the tutorial again. Of course you can also play through this expansion with an existing character, and that's what it's designed for. It's an epilogue that sets up Borderlands 3, getting characters and a plot MacGuffin into place for the sequel, while also dealing with some Tales from the Borderlands fallout. (If Telltale's spin-off has been sitting in your backlog, definitely play it before this.) That makes this the third Borderlands 2 epilogue, by my count. Of the other DLCs both Tiny Tina's Assault on Dragon Keep and The Son of Crawmerax explicitly deal with how the events of the story have affected the cast. It's a very "for the fans" kind of thing to keep doing, with a lot of explicit callbacks and running jokes for players who've built up a fondness for characters like Brick, Tannis, Moxxi, and even Claptrap. Obviously, there's a lot of shooty-shooty-pew-pew as well. This is still a Gearbox Borderlands rather than a Telltale one. The level cap is boosted to 80 and a whole new tier of weapons above the legendary rarity called "effervescent" has been added. I found a talking sniper rifle called Hot Mama and an assault rifle called Toothpick that jets flame out its side, both of which are as colorful as rainbows on an oil slick. The enemies I was shooting with my shiny new guns weren't quite so exciting. There's a military group called the New Pandorans in town who are mostly just boring soldiers. They've got specialists like medics, snipers, and guys with flamethrowers but what seemed like setup for jokes at the expense of Team Fortress 2 was wasted. Their leader Hector feels like a rehash of General Knoxx from the first game. His plan for taking over the planet and turning it into a paradise involves releasing a gas that transforms people into plant monsters, which results in some tweaks to the way you approach fights—clouds of spores that power you up in the short-term but cause damage if you stand in them too long, budding pods that release bad guys if you don't s...
New Free Borderlands 2 DLC Now Available!
Jun 9, 2019 - Community Announcements
Commander Lilith & the Fight for Sanctuary is an all-new Borderlands 2 campaign DLC that's FREE until July 8. Requires Borderlands 2 or Borderlands: The Handsome Collection to play. https://store.steampowered.com/app/872280/Borderlands_2_Commander_Lilith__the_Fight_for_Sanctuary/ Announced during today's Microsoft Xbox E3 2019 Briefing, Commander Lilith & the Fight for Sanctuary is the fifth campaign DLC for Borderlands 2. This all-new adventure not only sets the stage for Borderlands 3 but also introduces some exciting new features along the way. We're talking new areas to explore, new enemies and bosses to battle, a new level cap to hit, new aesthetic options for your Vault Hunters and vehicles, two new endgame OP levels, and a new better-than-Legendary Effervescent tier of weapons and equipment to loot. And it's free until July 8! https://youtu.be/VjRp1BkP1ZI Led by the legendary Firehawk Lilith, The Crimson Raiders are in possession of the Vault Map and are preparing to leave Sanctuary in search of its secrets. But when Dahl-branded ships full of soldiers arrive and deploy a chemical weapon, the team is forced to change plans, and a hasty escape leaves Lilith and the Vault Hunters scattered across the Pandoran desert. Enemies infected by Dahl's toxic gas pose a new threat to Pandora, and only you and your friends can stop it. If you want to start the new Commander Lilith & the Fight for Sanctuary with one of your existing Vault Hunters, you need to visit the new "Fight for Sanctuary" location, which is accessible via Fast Travel stations. Note that attempting to play the new DLC content is not recommended unless your Vault Hunter is at least level 30. Want to jump right into the DLC without delay, regardless of how much Borderlands 2 you've played? You also have the option to create a new level 30 Vault Hunter already loaded into the start of Commander Lilith and the Fight for Sanctuary. Go to the Select Character screen, create your level 30 character, and then start the game to automatically be transported to the new content. Commander Lilith & the Fight for Sanctuary will be available for free to all owners of Borderlands 2 and Borderlands: The Handsome Collection until July 8 at 06:59:59 UTC (11:59:59 PDT). Requires Borderlands 2 or Borderlands: The Handsome Collection to play.
Borderlands 2 DLC that sets stage for Borderlands 3 leaks yet again
Jun 6, 2019 - Eurogamer
Whoops, looks like someone hit the publish button a little too early. Thanks to a premature Steam page posting, we've finally had the heavily-rumoured Borderlands 2 DLC confirmed, and it sounds like the perfect prep for Borderlands 3. The posting for Commander Lilith & The Fight For Sanctuary briefly appeared on Steam last night - but as the page was pulled shortly afterwards, I think we can conclude it wasn't supposed to be there. As the internet never misses a thing, images of the DLC and its description soon appeared on Reddit. Importantly, the DLC looks like it will be free, and those who spotted it on ResetEra report there's a release date of 9th June - which just so happens to be the same day as Xbox's E3 conference. According to the posting, the DLC will provide a brand new adventure involving some familiar faces. With Sanctuary under siege, the Vault map stolen and a toxic gas cloud poisoning Pandora, players will need to do their shooty-looty thing to join up with Lilith and the Crimson Raiders to take on "a deranged villain hell-bent on ruling the planet". The original source of the leak (via PlayStation LifeStyle) claimed this DLC will help explain what happens in the seven years between the end of Borderlands 2 and the start of Borderlands 3. Read more
Post-Apocalyptic Weekend up to 75% off
May 16, 2019 - Product Release
Save up to 75% on Post-Apocalyptic games as part of the Post-Apocalyptic Weekend*! Deals Include: - Day Z - 30% Off - Fallout 4 - 50% Off - Primordia - 70% Off - Wasteland 2 - 70% Off - The Long Dark - 66% Off - Borderlands 2 - 75% Off - Frostpunk - 40% Off - and over 100 other Post-apocalyptic games *Offer ends Monday at 10AM Pacific Time
Borderlands 2 current player numbers suggest Borderlands 3 is going to be huge
May 14, 2019 - Eurogamer
If the excitement surrounding Borderlands 3's announcement hadn't already shown you the scale of the hype behind this game, look no further than past entries in the Borderlands series. Despite Borderlands 2 having been released all the way back in 2012, the game still has a surprisingly large player base - with over a million unique users playing the game every month. The figures come from Take-Two Interactive's latest quarterly earnings report, which along with details on Red Dead Online has provided us with some neat information on the Borderlands series. Along with the stat on monthly player numbers, Take-Two revealed the Borderlands series has sold-in 43m copies, with 20m of these made up by Borderlands 2. Sold-in, by the way, means units sent to retail - so this figure includes game copies currently sat in shops. Read more
An hour of Borderlands 3 looting, shooting and interstellar travel
May 1, 2019 - Rock, Paper, Shotgun
Gearbox fully unveiled Borderlands 3 during a livestreamed event earlier today with an hour of largely-uncut co-op footage, showing off a brighter and more colourful sequel than I was expecting. Combat is more mobile, weapons have alt-fire modes, bosses look more interesting and players can now leave the dusty wastes of Pandora to go shooting and looting on other planets. You can see the full presentation below, and they're setting streamers loose on the game now for three hours of freeform play, so Twitch will be flooded with footage later today. (more…)
Review bombs can't stop big player count surge for Borderlands games on Steam
Apr 13, 2019 - Eurogamer
Despite a campaign of review-bombing from disgruntled Borderlands 3 fans upset the game will be a timed Epic Games store exclusive, old Borderlands games have enjoyed a huge surge in popularity on Valve's platform. Fuelled by the announcement of Borderlands 3 and the release of the free The Handsome Collection Ultra HD Texture Pack, Borderlands 2, Borderlands: The Pre-Sequel and Borderlands Game of the Year Edition have all seen a massive uptick in concurrent players. According to Steam Charts, Borderlands 2 enjoyed a whopping 89.25 per cent gain in average players over the last 30 days, with an impressive peak of 59,333 concurrent players. Read more
Borderlands 2 peaked at almost 60,000 players on Steam last weekend
Apr 12, 2019 - PC Gamer
Borderlands 2 has seen a huge increase in concurrent players on Steam in the last week, no doubt a result of escalating interest in the series following the reveal of Borderlands 3. The game peaked just shy of 60K players last weekend—59,033 according to Steam Charts and highlighted here on GitHyp. The review scores remain Very Positive on both Borderlands 2 and the original game, though closer inspection will show that both games have seen recent 'off-topic review activity'—read more about those review bombing efforts here.   Borderlands 2 has remained a firm favourite with PC players since its release back in 2012. It's been discounted a lot lately, too, which has likely driven further interest in it. Or maybe it's that 4K texture pack that was added to the game?  If you're wondering what all the fuss is about, you can check out why Jody thought Borderlands 2 was ahead of its time. Alternatively, you can read up on everything we know about Borderlands 3, which is set for release on September 13.
Borderlands 2 is Back in Steam's Top 5 Most Played Games
Apr 11, 2019 - GitHyp
Gearbox Software and 2K Games' controversial decision to release Borderlands 3 exclusively on the Epic Games Store might have upset PC gamers when announced last week, but that's not stopping plenty of fans from returning to the 2012 loot shooter, Borderlands 2, and boosting it back into Steam's top 5 most played games.
Considered the best in the series, Borderlands 2 has remained in Steam's top 50 most played games since its release seven years ago, averaging just under 10k concurrent players each month over the past few years.
And this past weekend, the sequel's player counts exploded with a peak of 60k concurrent players – just shy of half the game's all-time peak of 124k players from back in September 2012.
Borderlands 2's recent 500% increase in players can be attributed to The Handsome Collection (which includes BL2, Borderlands: The Pre-Sequel, and all bonus add-on content) being discounted by 74% on Steam, new remastered graphics options just being released for free, and of course, all of the headlines Borderlands 3 has been making as of late.
But while the past week has been great for Borderlands 2, Gearbox's new exclusive BL3 deal with Epic (that GitHyp predicted weeks ago) has cast a shadow over its comeback. And as a result, many upset PC gamers have resorted to review bombing Borderlands games on Steam to let the publishers know they're not happy with the recent exclusive deal.
Ironically, Gearbox's CEO, Randy Pitchford, has used the recent negative reviews as a reason he's happy to have signed an exclusive deal with Epic… adding more fuel to the fire... and failing to realize that Valve's latest update to Steam's customer review system has actually helped Gearbox by preventing the influx of negative reviews from impacting Borderlands 2's "Overwhelmingly Positive" score.
With Borderlands 3 launching on September 13, 2019 for PlayStation 4, Xbox One, and Epic's Store, we won't know exactly how the game's exclusivity impacts the game's player base for a while. Based off the recent resurgence of BL2, it's safe to say that BL3 will likely top BL2's peak player count when it launches on Steam sometime in early 2020.
Steam counters Borderlands 1 and 2 review-bombing
Apr 6, 2019 - Eurogamer
Steam's new anti-review bombing measures appear to be working. Borderlands 1 and 2 suffered review-bombing on Steam after 2K announced Borderlands 3 will be a six-month timed exclusive on the Epic Games store. But Valve's new anti-review bombing measures have kicked in, and these "off-topic" reviews are excluded from the review score by default. Read more
Borderlands games reload with updated art and features
Apr 3, 2019 - Rock, Paper, Shotgun
There ain't no rest for the wicked, a video game once told me, and Gearbox Software certainly have been busy. Today they launched remastered versions of Borderlands, Borderlands 2, and Borderlands: The Pre-Sequel, coming to PC as free updates. They're all prettied-up a bit, while the first game also now includes all the DLC as well as features borrowed from later games in the looter-shooter series. These updates are probably more for the benefit of the latest consoles, jazzing 'em up for a fresh audience before Borderlands 3 hits in September, but hey we benefit too. Thanks, Ian Microsoft and Ian Sony! (more…)
There's a High Chance Borderlands 3 Could Be an Epic Games Store Exclusive (If It's Revealed in 2 Weeks)
Mar 13, 2019 - GitHyp
Yesterday, Gearbox posted a cryptic message on Twitter teasing a big announcement in just two weeks on March 28. And so far, all signs (literally) seem to be pointing to the reveal of Borderlands 3 at PAX East.
With gamers recently voicing their frustration over EA and Bioware's troubled launch of Anthem and often citing Borderlands as a shining example of how developers should properly make a loot shooter, now is without question the perfect time for Gearbox to jump back into the spotlight.
But with most fans getting caught up in the excitement of Borderlands 3 finally being revealed, many PC gamers are beginning to worry that the game could become another Epic Games exclusive…
Something that's highly possible, considering Gearbox teamed up with Epic at the end of 2017 to bring the physical version of Fortnite to stores for $59.99 (before the game exploded in popularity as a free-to-play battle royale).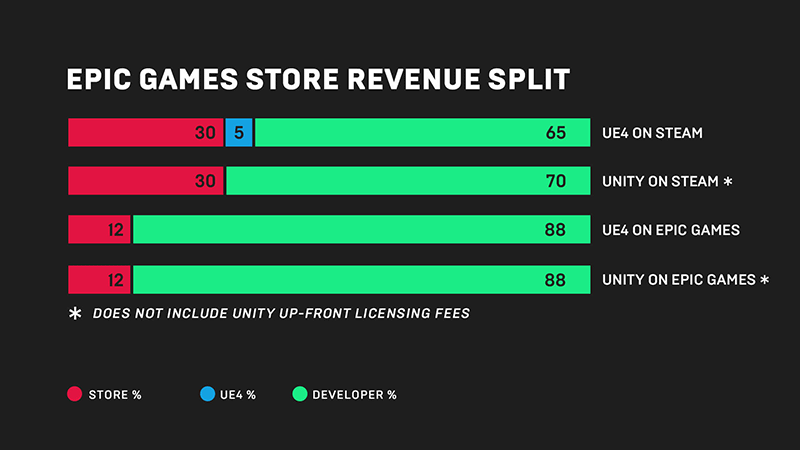 With the last Borderlands game using Epic's Unreal Engine 3, BL3 will most likely be on UE4. And in doing so, Epic would cover the 5% royalty fee on their store that Gearbox would have to otherwise pay on Steam. This would result in a 35%/65% split in revenue on Steam compared to a very enticing 12%/88% currently being offered by Epic.
This also wouldn't be the first time that Gearbox made an exclusive deal using the Borderlands brand. Just last December, Gearbox upset PC gamers by teasing Borderlands 2 in VR, only to then reveal it as a PlayStation VR exclusive that could eventually come to PC at some point in 2019.
Around that same time in December 2018, Gearbox's CEO, Randy Pitchford, also made multiple comments on Twitter that hinted at a potential new deal with Epic, saying, "I am excited to support the Epic Games Store" followed by, "Their leadership on this front is welcome and due."
(I've been asked a lot about it today. To add more color: Our friends at Epic are great people who care about the health of our industry and the value of creators big and small. Their leadership on this front is welcome and due.)

— Randy Pitchford (@DuvalMagic) December 5, 2018
Pitchford's comments went mostly unnoticed, until just two days ago when a user replied to what he said back in December, resulting in a new reply from Pitchford that has also gone unnoticed and should have Steam users worried: "Who cares which store you get your games from?"
What's wrong with that? A PC is a PC - who cares which store you get your games from? I'm just curious to learn the mind-set. I am a customer on lots of different PC platforms.

— Randy Pitchford (@DuvalMagic) March 12, 2019
After the disappointing launches of Aliens: Colonial Marines and Battleborn, and even allegedly being scammed out of millions of dollars himself, Gearbox and their CEO are often finding themselves surrounded by controversy. And after after so many financial problems, Gearbox could now be in the position to easily be courted by Epic.
Although Pitchford's comments seem to be very pro-Epic as of late, Borderlands 2 still ranks among Steam's top 50-100 games, with peaks of over 10k concurrent players at times, despite being released almost 7 years ago.
Hopefully, the long tail found with Steam's loyal player base is enough to keep it on Steam and we'll see Borderlands 3 released simultaneously on all platforms (whenever it actually launches). But with Microsoft also revealing yesterday that Halo: The Master Chief Collection is coming soon to Steam, Epic is surely looking to keep up their current momentum by stealing another one of Steam's most played franchises like Borderlands.